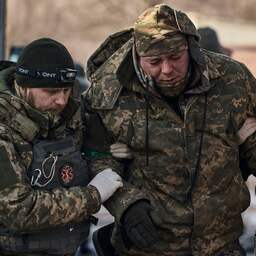 ---
08 March 2023 at 20:51
The West expects Bakhmut to fall in the coming days. That says NATO chief Jens Stoltenberg on Wednesday. The Russians claim they control the east of the city. According to Western government officials, the battle has already claimed tens of thousands of lives.
In conversation with BBC News, at least 30,000 Russian soldiers are taken into account. "And that was certainly not necessary if you look at the limited strategic value of the city," the British broadcaster is quoted as saying.
Russian troops and the mercenary army of the Wagner Group have been trying to take the city for more than half a year. Ukrainian troops have been hemmed in from three sides for several weeks.
Ukrainian President Volodymyr Zelensky announced last weekend that he would send elite troops to the city. He wants to bolster the defense with that. According to military analysts, Ukraine wants to kill as many Russian soldiers as possible before the city falls.
Ukraine gets the chance because of the Russian tactics. The urge to take the city is so great that for months countless – often poorly trained – soldiers have been sent to Ukrainian defense lines. Hundreds of them die every day.
Ukraine is also suffering major losses
Ukraine is also suffering huge losses, Western government officials acknowledge. This is mainly because Russia uses the 'human wave' tactic to visualize the defense locations and then bomb them. But according to the West, the losses are not as great as the Kremlin outlines: according to Russian defense minister Sergey Shoigu, Kyiv lost more than 11,000 soldiers near Bakhmut in February alone.
Kyiv does not rule out a tactical withdrawal in the coming days or weeks. There is reportedly only one way out for the Ukrainian troops. According to NATO chief Jens Stoltenberg, the fall of Bakhmut will not be a turning point in the war.
It is especially important for Ukraine that they have been able to hold out in Bakhmut for more than six months and that they are still able to maintain the resistance. As a result, the defenses of Sloviansk and Kramatorsk, the nearby major cities and last remaining Ukrainian strongholds in Donetsk, could be prepared to perfection.
---
---