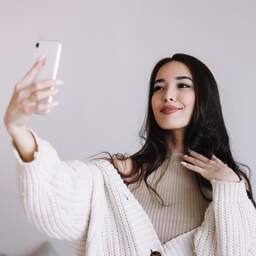 ---
08 March 2023 at 21:59
TikTok recently came up with the new 'Bold Glamour' filter, with which you can make yourself more beautiful in a very realistic way. In response to reader questions, we asked experts about the effects of using these filters on our self-image.
The new filter ensures that someone looks almost perfect within a second. Whether it is desirable to constantly confront young people with these images, you can question that.
Communication scientist Nadia Bij de Vaate recently conducted research into the social media use of young people. According to her, it is not the case that social media or the way we use it can completely change someone's self-image.
"Because young people grow up with social media, they really know when edited images are circulated. At the same time, adolescents are still very impressionable."
Desire does not go away
Justine Pardoen of Bureau Jeugd & Media also sees this. "Young people who are insecure, look more often at how others look and compare themselves more with that other person."
"And if you know that something is fake, it doesn't mean that the desire goes away," says Pardoen. Now that filters are starting to look more and more realistic, that ideal version of yourself is suddenly available and that can be frustrating.
---
Someone may become aware that he or she does not look the way they should on TikTok or Instagram according to certain standards.
Nadia Bij de Vaate, communication scientist
---
There are therefore indications that if someone is not feeling well, the tendency to apply filters is much greater, says Bij de Vaate. "Someone can become aware that he or she doesn't look the way they should on TikTok or Instagram by certain standards."
Correlation between filters and lower self-esteem
According to Nastasia Griffioen, behavioral scientist at the Games for Emotional and Mental Health Lab at the University of Twente, there are studies that suggest a connection between the use of filters and lower self-esteem.
---
We constantly have to add that something is not real. Because the power is in the repetition.
Justine Pardoen, from Bureau Jeugd & Media
---
"But it is difficult to say whether people with lower self-esteem use more filters. Or whether it is the other way around that the use of filters can actually lead to that lower self-esteem."
More clarity can help
According to Griffioen, one person may experience that difference as shocking, while the other sees it as a way to emphasize the beauty that is already there. De Vaate agrees. "Whether someone experiences the images as inspiring or unattainable plays an important role here."
Whether and how filters influence the way we look at ourselves is therefore not easy to say. But whether that's true or not, more clarity about what's real and what's not can help those who do suffer from unrealistic beauty standards.
According to Pardoen, talking about the fact that certain images are edited or fake does not solve anything. "They know." Instead, she thinks of a warning with every edited image. "We have to constantly add that something is not real. Because the power is in the repetition. The more often you see something, the greater the chance that you will believe it."
---
---