---
Mar 08, 2023 at 11:12 Update: 2 minutes ago
The PSV fan who attacked the goalkeeper of Seville at the end of February has to go to jail for two months. This was determined by the court in Den Bosch on Wednesday during an accelerated court hearing. Twenty-year-old Dylano K. says he does not remember anything about the incident.
"You call yourself a football fan, but this had nothing to do with that," said the judge, who followed the demand of the Public Prosecutor with a three-month prison sentence, one of which was suspended. "This action was completely disrespectful to the goalkeeper, the football clubs and the real supporters of PSV."
The PSV supporter ran onto the field in the closing stages of the match on February 23 and approached goalkeeper Marko Dmitrovic. He then dealt a punch to the keeper, who immediately knocked K. to the ground. Several security guards then led the man from Roermond off the field.
After his arrest it turned out that K. had a stadium and area ban in the Philips Stadium. He had also drunk too much beer. He had a blood alcohol level of over 1.6, which is equivalent to about eight glasses of beer. In 2021 and 2022, K. received community service twice for violations around football matches.
In addition to the prison sentence, K. will receive a new area ban for the area around the PSV stadium for two years. "This is quite a hefty sentence," said the police judge. "It is also a warning to others who call themselves supporters, but believe that they can just walk onto the field to attack a player."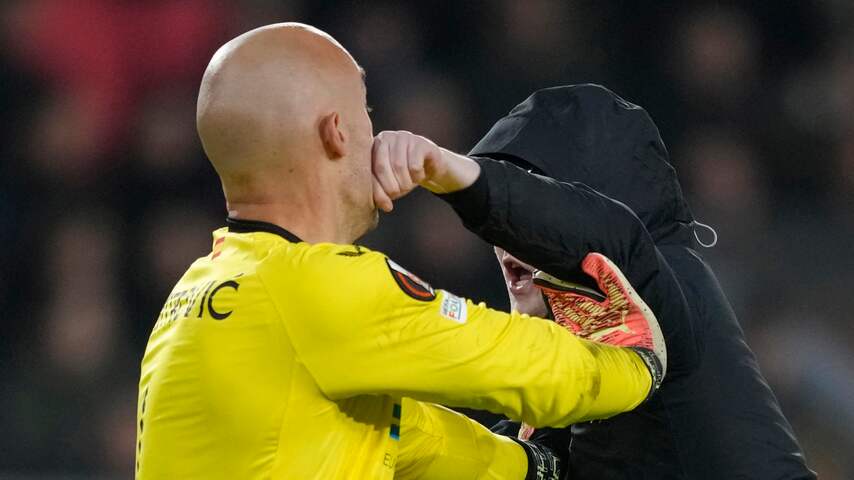 K. dealt a punch to the keeper of Sevilla. Photo: AP
K.: 'I think I found it a bit tough'
K. does not want to tell the judge during the hearing how he circumvented the stadium ban. He said he knew nothing more about his act. "I went on the field. It all went super fast. Before I knew it I was on the ground and I was taken away by the security guards."
K. admitted in court that he had drunk too much beer before the game. "I think I thought it was a bit tough. Which it isn't at all. I don't know what came over me." K. says he is "very sorry".
General director Marcel Brands of PSV was furious with K. He wanted to impose a lifelong stadium ban on the man from Roermond. "Throwing fireworks or other things on the field is of course not good, but this goes a lot further. I am deeply ashamed of this," Brands said.
It is striking that the punishment for K. is a lot lower than that for the Ajax supporter who attacked AZ goalkeeper Esteban in 2011 during Ajax-AZ. Wesley van W. was given six months in prison at the time, two of which were conditional, for a similar offense.
---
---