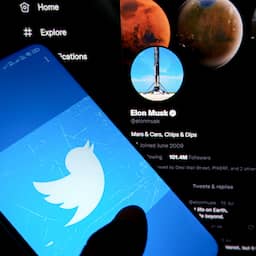 ---
08 Mar 2023 at 08:54Update: 5 minutes ago
Twitter may earn more money before the summer than the social media company spends. According to owner Elon Musk, the company has been balancing on the edge of the abyss in recent times. The billionaire says he has avoided bankruptcy by laying off thousands of employees and cutting other costs considerably.
Musk expects the platform to earn as much as it spends between April and June. Now more money is going out than coming in. This is partly because advertisers have ignored Twitter since the takeover in 2022.
The billionaire said at a conference organized by investment bank Morgan Stanley that Twitter could probably break even in the second quarter. It is possible that even a little more comes in than the company spends.
That does not mean that Twitter will already make a profit. That is because Musk has to make significant write-offs, the billionaire acknowledged in an interview at the event.
Musk began drastically cutting costs shortly after Twitter was incorporated. More than half of all employees have already been laid off.
He also stopped paying rent for offices other than the San Francisco branch. Twitter was therefore evicted from a building in Seattle. The billionaire also refused to pay a bill for a chartered plane.
---
---