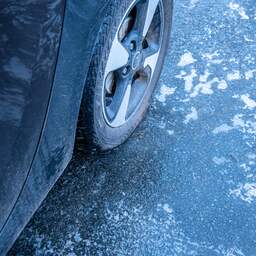 ---
08 March 2023 at 12:46
Code yellow is in effect in much of the country from Wednesday evening to Thursday morning. The provinces of Limburg, North Brabant, Zeeland, Utrecht, Gelderland, South Holland, Flevoland and Overijssel must take slipperiness due to snowfall into account.
In Limburg and North Brabant, the warning applies from 8 p.m. to 4 a.m. Incidentally, code yellow is now also in force in those provinces, until 4 p.m. Earlier there was still code orange.
For Zeeland, the code yellow also applies from 8 p.m. to 4 a.m., and for South Holland, Utrecht, Gelderland, Flevoland and Overijssel from 11 p.m. to 7 a.m.
The KNMI warns people with code yellow for dangerous weather. The chance that the weather forecast will come true is at least 60 percent.
In the south it may still be slippery on Wednesday due to snow remnants or light snowfall, the KNMI reports. Snow will fall again in the course of the evening and overnight. This can lead to hindrance to traffic and outdoor activities.
---
---