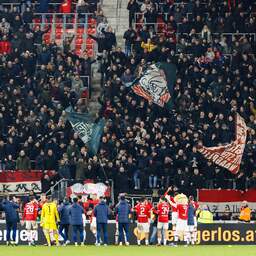 AZ is taking precautions for the return against Lazio in the eighth finals of the Conference League next Thursday. The Alkmaar club hangs nets in front of parts of the stands of the AFAS Stadium to prevent things from being thrown on the field.
UEFA has been targeting AZ for some time now. In the Conference League group match with FC Vaduz earlier this season, some sections in the stadium had to remain empty. After that it went wrong a few more times.
The Alkmaarders have been held accountable for this. If things get out of hand again, a hefty fine is imminent and spectators may not be allowed in parts of the stadium during a subsequent match. This mainly concerns the so-called Van der Ben stand, where the fanatical supporters sit.
AZ surprisingly won the first leg with Lazio on Tuesday evening. The match in Rome ended in 1-2, which means that coach Pascal Jansen's team has a good starting position to reach the quarter-finals.
The return in Alkmaar will be kicked off on Thursday, March 16 at 9 p.m. AZ has already sold 15,000 tickets for this game.
---
---