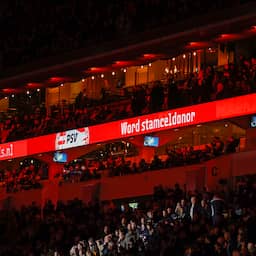 ---
07 March 2023 at 14:47
FIFA expressed support on Tuesday for the terminally ill PSV press secretary Thijs Slegers. Like Slegers, the world football association calls on the Dutch to become blood or stem cell donors.
FIFA pays attention to Slegers' story on its own site. The PSV spokesman was diagnosed with leukemia a few years ago and announced a month ago that he is no longer getting better.
"Of course we join all expressions of support and compassion for Thijs Slegers, his family and all his loved ones," FIFA writes. "If you live in the Netherlands, please consider becoming a stem cell or blood donor. You can register with Matchis or Sanquin and help make Thijs happy."
The 46-year-old Slegers recently made an appeal via Twitter to become a blood or stem cell donor. "I am beyond help, but others are!" he wrote.
Many people responded to that call. After two weeks, there were almost eight thousand registrations from people who wanted to become a stem cell donor. More than three thousand people indicated that they wanted to become a blood donor.
Several statements of support to Slegers
At the beginning of last month, Slegers received several statements of support after he announced that he is terminally ill. During Feyenoord-PSV, the Eindhoven and Rotterdam fans applauded in the twelfth minute.
PSV also paid a lot of attention to Slegers' message in the Philips Stadium. During the duel with FC Groningen, sponsors gave up their advertising space for the call to become a donor.
In addition, the program Blood Relatives for Thijs on ESPN devoted extensive attention to Slegers' disease and the importance of blood and stem cell donors. Furthermore, ADO Den Haag recently played with the name of stem cell donor bank Matchis on the shirt.
Unfortunately, this content cannot be displayed. We do not have permission for the necessary cookies. Accept the cookies to view this content.
Change cookie settings
---
---