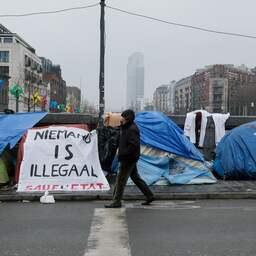 ---
Mar 07, 2023 at 7:56 PMUpdate: 4 minutes ago
On Tuesday, the Belgian police removed dozens of tents and other structures that had been standing in front of the registration center in Brussels for months. The more than a hundred refugees who slept there are being taken care of in other places. The eviction follows less than a month after the major action in which more than a hundred refugees were removed from a squatted building.
The improvised tent camp was located at the Klein Kasteeltje, in the middle of the Belgian capital. That is also the place where asylum seekers must report before they can enter the asylum process in the country.
People for whom there was no place in the regular shelter had been sleeping on the bridge and on the quay for months. It was mainly men. The Belgian reception organizations tried to arrange as many places as possible for women and minors.
According to the Belgian government, there is now also enough space for the people who were still sleeping on the street. That is why the area around the tent camp was closed off and the more than a hundred residents were taken away by bus. Forty of them were given a place at Fedasil, the organization responsible for the reception in Belgium. The rest must first wait in an emergency shelter until there is room.
The tents were immediately removed to prevent new people from going to sleep.
Chaotic evacuation of squat
"We hope that this time all residents of the tent camp will finally enjoy reception and that attention will also be paid to the rest of the asylum seekers entitled to reception, who are still living on the streets elsewhere," says Vluchtelingenwerk Vlaanderen.
The organization refers to the evacuation of the squat last month. About a thousand asylum seekers and homeless people lived in the building on Paleizenstraat. They lived there for weeks in unsanitary and unsafe conditions.
The evacuation was chaotic and there was not room for all the people who had been sent away. There were also not enough buses to take all the refugees. As a result, some of them ended up in the tent camp at the Klein Kasteeltje.
Belgium, like the Netherlands, is struggling with a shortage of reception places for refugees. The country is therefore fully committed to more reception locations. At the same time, the country is also looking at how the asylum system can be better structured.
---
---