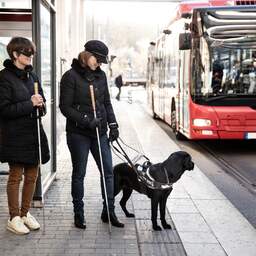 ---
06 March 2023 at 05:05
Many blind and partially sighted people have been hit hard by the recent public transport strikes. Interest groups see that many of them do not dare to leave the house because they cannot reach their destination without public transport. And that is worrying with a view to March 15: the day on which there are elections and public transport is down.
Ingrid den Hertog of the Bartiméus Fund is afraid that many blind and partially sighted people will soon not be able to vote. There are about 350,000 visually impaired people in the Netherlands.
"The strike is very worrying, because it may prevent them from getting to polling stations," says Den Hertog. "Or people have to take a taxi and incur a lot of their own expenses." Travel time can add up quickly, especially in non-urban areas.
Ton van Weerdenburg of the Dutch Eye Association is also concerned. "This group of people cannot go by bicycle or car, while alternative public transport such as the regional taxi is not always available."
As a result, some blind and partially sighted people had to walk for miles in recent strike days. "It results in dangerous situations. You don't know the routes and you may have to cross more often than you are used to. A few extra kilometers feels like a long way to a blind person," says Van Weerdenburg.
Ministry concerned about announced strike
Den Hertog is disappointed that the public transport companies have announced a strike on March 15. On that day, the Dutch can go to the polls for the Provincial Council elections and the water board elections. "It's just not possible. You can't lay down such an important position on such an important date."
The Ministry of the Interior is also concerned about the announced strike. "At the same time, the ministry naturally respects the right to strike. It is up to the unions to take these signals and the importance of unfettered elections into account."
A spokesman for the trade union FNV says that consultations are still being held about whether the strike will continue. "But we can't guarantee what it's going to be."
Blind and partially sighted people can vote independently in 95 municipalities
That is 15 more than last year. Yet this only concerns more than a quarter of the total number of municipalities in the Netherlands (342). A considerable part of the 350,000 visually impaired people would benefit from extra help.
'They miss things and are sidelined'
Public transport is also on strike today. This also happens on March 8, 10, 14, 20, 22, 24, 29 and 30, and on three days in April. According to both Den Hertog and Van Weerdenburg, this will once again have a huge impact on the lives of the blind and visually impaired. For example, many of them probably cannot go to the office to work.
"But also think of an appointment with a cardiologist that has been scheduled for months. It suddenly comes under pressure. Or you may have to take a taxi for dozens of kilometers," says Den Hertog. "We hear from people that they are simply not going out at the moment, because they are not sure that they will arrive at their destination," adds Van Weerdenburg.
He emphasizes that blind and partially sighted people do support the strikes. "We know that there is an enormous workload in public transport and that there is too little salary. But we have doubts about the way in which people are striking now. Is there really no other, public-friendly action? You are now affecting travelers on whom you depend ."
Den Hertog: "These vulnerable people are now the hardest hit. They miss things and are sidelined."
---
---