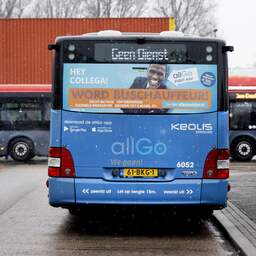 ---
Mar 06, 2023 at 10:31Update: 3 minutes ago
The strikes in the regional transport continue unabated. Work will be stopped today, Wednesday and Friday. Employers and trade unions still cannot agree on a new collective labor agreement for the thirteen thousand employees.
The Public Transport Employers Association (VWOV), which represents companies such as Arriva, EBS, Keolis Nederland, RET, Transdev and Qbuzz, has announced that more than half of public transport is running this morning. It is the third strike in seven days.
"We call on the trade unions to come to the table as soon as possible and to break this impasse. But then the strikes must be off the table," says a VWOV spokesperson. "It is disruptive, especially for people who need public transport to go to work or the hospital."
Strikes are also planned for March 15, the day of the provincial elections. There is a lot of criticism of this, since public transport is necessary for many people to get to the polls.
The collective labor agreement negotiations in the regional transport sector are deadlocked and this does not seem likely to change in the short term. The unions demand a wage increase of 14 percent, while the employers do not want to go beyond 11 percent. Furthermore, the parties cannot agree on schedules, breaks and the approach to work pressure.
---
---