---
06 March 2023 at 10:33
Four days after the astonishing 13-0 defeat at PEC Zwolle, FC Den Bosch decided to fire trainer Jack de Gier. He would leave the Kitchen Champion Division club after this season.
A month ago, FC Den Bosch already announced that it was going "in a different direction", where there was no longer room for De Gier. The coach has to leave now after the washing in Zwolle.
The relationship between De Gier and FC Den Bosch had been clouded since the news in February, says technical manager Yousuf Sajjad. "Jack should have been given clarity about his future in December. That did not happen, which created noise on the line," he says.
"When we had to inform him in February that we would not continue with him after this season, it fell on him raw. We sincerely hoped that we could nevertheless continue to work together on a good final agreement of the season. Unfortunately, we are in that joint mission failed."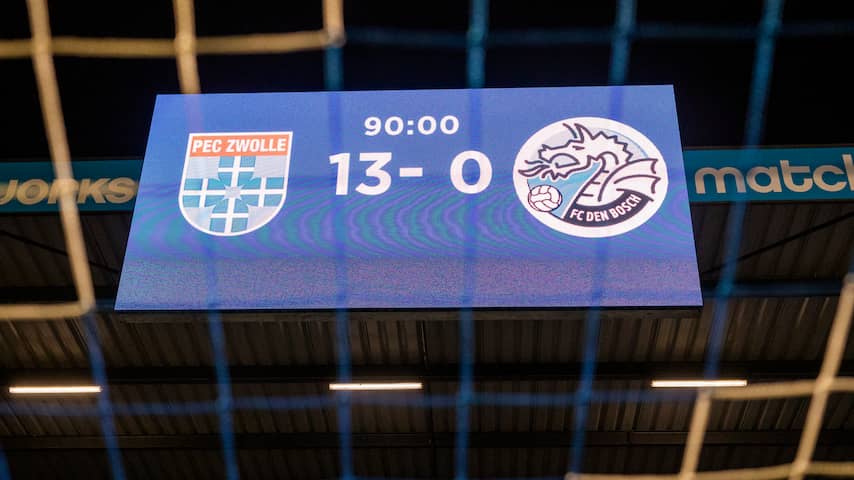 The numbers that sealed the fate of Jack de Gier at FC Den Bosch. Photo: Pro Shots
'We have to go through the eye of the storm'
According to Sajjad, "structural things have to change" at FC Den Bosch. "We also think we know what those things are. Change takes time. First we will have to go through the eye of the storm. The result on Friday exceeded our expectations in a negative sense."
The monster defeat of FC Den Bosch in Zwolle was the biggest result ever on the second Dutch level. In addition, PEC equaled the biggest victory in professional football.
De Gier's duties are provisionally taken over by assistant coach William van Overbeek. FC Den Bosch is number eighteen in the Kitchen Champion Division after 27 matches.
View the results, the position and the program in the Kitchen Champion Division
---
---