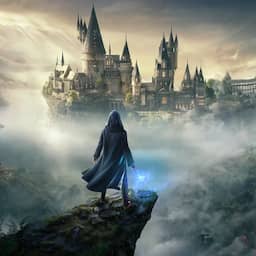 Never before has there been so much discussion around a video game as in the case of the Harry Potter game Hogwarts Legacy. This discussion has everything to do with the statements that the creator of the bespectacled sorcerer's apprentice previously made about transgender people. What did JK Rowling say and how does that affect the video game?
Rowling herself is not involved in the development of the game, which was released in February and has since been sold millions of times. Yet it is her statements that cause the necessary commotion around the release of Hogwarts Legacy. The reason? Rowling does make money from the game, as it is based on the Harry Potter stories. According to critics, this is a problem, because the author previously made several controversial statements about transgender people.
This makes it clear that Rowling does not consider transgender women as women. She also states that women only want to be a man, because they are oppressed as a woman. It earned Rowling the label 'TERF', which stands for a feminist who does not consider transgender women to be women and therefore excludes them from the fight for women's rights.
In addition, the author regularly shares and likes posts about this subject. For example, a tweet calling transgender women "men in dresses" received a like from the author. And in 2020 she shared an article that talked about "people who menstruate". "I'm sure there was once a term for this?" Rowling, 57, wrote, referring to the word "women." Critics blame her for this, because transgender men can also menstruate.
Despite the criticism, the author continues to share her views on transgender people. She recently said on The Witch Trials of JK Rowling podcast that she has been misunderstood and that she doesn't want to upset anyone. But she added that she does not mind that she fell off her pedestal after her statements.
Unfortunately, this content cannot be displayed. We do not have permission for the necessary cookies. Accept the cookies to view this content.
Change cookie settings
"The fact that Rowling has a large following makes it even worse"
Thomas Vink is a transgender man himself and volunteers at Genderpraatjes, a telephone line for people who have questions about gender identity. "It is mainly young people who call or chat with us. For example, with questions about the transition, the process that a transgender person goes through to change gender completely or partially," Vink told NU.nl. "We regularly speak to young people who are not accepted by their immediate environment. They are excluded at school or their parents do not allow them to wear the clothes they want."
"Someone like Rowling may have an opinion about transgender people, but her statements do have an impact. She spreads views that are not only incorrect, but also very harmful to young people in particular. It contributes to the prejudice and discrimination of transgender people The fact that she is a well-known person with a large following makes it even more offensive," says Vink.
Among the critics are also actors from the Harry Potter films. Daniel Radcliffe, who plays the lead role in the film series, was the first to respond to Rowling's statements. "Transgender women are women. By claiming otherwise, you erase the identity and dignity of transgender people," Radcliffe wrote in a response.
The actor was assisted by colleagues Emma Watson (Hermione Granger) and Rupert Grint (Ron Weasley). And that is important, according to Vink. "It is good if non-transgender people also participate in the discussion. It contributes to the acceptance of transgender people and it encourages others to express their support as well."
Fans rather not happy with possible Harry Potter series
When rumors of a possible Harry Potter series circulated in January 2021, not all fans were happy about it. The idea that Rowling would earn from the series met with resistance. But there is also support for Rowling. Harry Potter actors Helena Bonham Carter and the recently deceased Robbie Coltrane stood up for her.
Coltrane, who played Hagrid, did not find Rowling's statements offensive. "I don't know why, but there's an entire Twitter generation waiting to be offended. Get over it."
For critics, it's simple: people who buy the game support Rowling's erroneous and damaging views. That's why they advocate a boycott of the game. It doesn't seem to have any real effect yet. At the end of February, Warner Bros., the producer of Hogwarts Legacy, announced that the game has already sold twelve million units two weeks after its release.
Interestingly, the game doesn't let you choose between a male or female character: you choose a physique and hairstyle and decide whether you sleep with the wizards or witches. It is not clear whether the makers did that in response to Rowling's statements. At least Vink is happy. "Many young people feel seen and represented as a result. It also contributes to the normalization of gender diversity."
Vink is not in favor of a boycott. "As far as I'm concerned, everyone is allowed to have their own opinion. I'm not in favor of calling on people not to buy the game or making people who decide to buy the game feel guilty. I just wouldn't do anything easily myself which supports Rowling (financially)."
---
---