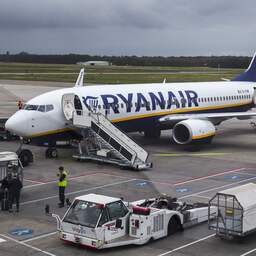 It was a bit of a shock for the 180 passengers of a plane that landed at Eindhoven Airport on Sunday afternoon. The Ryanair aircraft suffered a blowout during landing. No one was injured, reports a spokesperson for the Brabant Southeast Security Region.
The fire service escorted the aircraft to the apron. There the passengers could disembark and their luggage was removed from the plane.
It concerned a flight from London that landed at Eindhoven Airport around 3 p.m. The emergency services were immediately called in and air traffic was halted.
"When it was clear that everything was not too bad, the emergency services left again and air traffic resumed after about ten minutes," said a spokesman for the airport. Air traffic was not significantly delayed as a result of the incident.
---
---