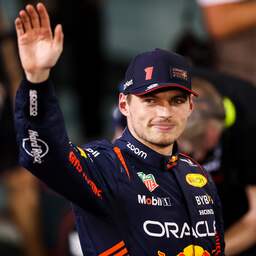 Max Verstappen was somewhat surprised by his pole position at the Bahrain GP on Saturday. The Dutchman from Red Bull Racing kept teammate Sergio Pérez more than a tenth behind him with 1.29.708, while it was still difficult in the free practice sessions.
"I'm especially surprised because the season started so difficult. We couldn't find the balance in the car that was still so good during the test days," the Dutchman said afterwards.
Verstappen said he had to change the settings of his Red Bull from right to left to get on the right track. "In the end we came out in the middle. In Q1 it didn't feel quite perfect yet, but I'm happy with the laps that came out of the car in Q3."
The Limburger still wants to find out how his car could differ so much compared to the test days. "I was really shocked by the balance in practice. It was difficult to get a fast lap. But my final qualifying time felt the best this weekend."
In the end it was teammate Sergio Pérez who came closest to Verstappen, but the Ferraris also turned out to be faster than expected. While Leclerc explained next to him that Ferrari had found 'something' in the car, Verstappen reacted wittily. "A sandbag?" he asked the Monegask, a reference to the Formula 1 term sandbagging. That's what teams that hold something back do.
Aston Martin was also strong all weekend, especially Fernando Alonso. "That is not surprising. Most teams copy the fastest car. If you see that a team is doing well, you try to copy it", Verstappen responded to the external similarities between the Aston Martin and the Red Bull.
Especially on Sunday, Verstappen sees a threat in Alonso. "Their race pace was already much stronger than their qualifying speed last year, so I think they took that with them."
---
---