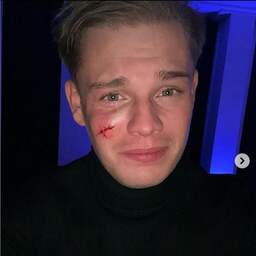 Dennis Schouten was injured in a stabbing in a bar in Enschede on Friday night. The presenter of the popular YouTube series Gossip Talk shares the news via Instagram and shows his battered face there.
The photos show that Schouten has a big cut in his cheek.
"I was stabbed in the face with a knife in Aspen Valley in Enschede around 3 a.m. last night." According to Schouten, it happened for no reason. "While I was talking to a friend of mine at the bar while waiting for our drink. Suddenly I was covered in blood," writes 27-year-old Schouten.
"This is the fine you apparently have to pay in 2023 if you have an opinion in the Netherlands."
"I take all the risks of my opinion, my work and my program. But what goes on in your sick head when you go into town with a knife. Thank god I didn't get stabbed 2 inches higher, tomorrow I'll report doing."
Schouten has decided to immediately communicate the incident publicly "because many people have seen this happen". He calls on witnesses to report to the police.
---
---