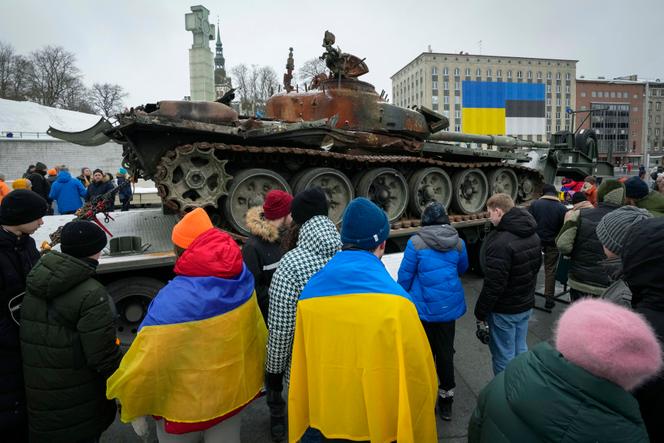 A Russian T-72 Model B3 tank destroyed and displayed in the Estonian capital on the first anniversary of Russia's invasion of Ukraine, in Tallinn, February 25, 2023. SERGEI GRITS / AP
A Russian tank appeared in the heart of Tallinn, a few days before the Estonian legislative elections. On Freedom Square, Estonians were able to closely observe a Russian T-72 model B3 tank destroyed around Kiev in March 2022 for a week. With curiosity, satisfaction, disgust or sadness, depending on everyone's opinion.
On the eve of the March 5 election, in this Baltic country which has become one of the most determined supporters of the Ukrainian cause, the demonstration does not go unnoticed. Panels in several languages, including Russian, detail the technical characteristics of the tank and how it was knocked out, hit on Ukrainian soil by weapons of several calibers, from submachine guns to charging shells hollow which finally got the better of him by causing the explosion of the ammunition, and the tearing of the turret. Inside, the metal is melted. No details are given on the soldiers who were there. On one panel, however, is a more political message: "Russia is a terrorist state. »
For some, this spectacle is difficult to bear. "It's provocation," protests Olga, a young Russian-speaking Estonian citizen, who wants to remain anonymous. But, in Estonia, this trophy constitutes a symbol whose nature is largely accepted. The Estonian Parliament passed a resolution on October 18 declaring the Russian Federation a terrorist regime.
Read also: Article reserved for our subscribers Between Russian threat and inflationary wave, Estonia's resistance
The authorities have planned a tour of this tank-symbol, Thursday, March 2, intended to travel to other Estonian cities, even if some have given up welcoming it, like Narva, border of Russia, populated by an overwhelming majority of Russians or Russian-speaking Estonians. "The presence of the tank causes emotional reactions, recognizes Mariana Betsa, Ambassador of Ukraine to Estonia, who organized this tour with the Estonian Ministry of Defense and the War Museum. Russians brought flowers. But it is an important symbol of Ukrainian resistance which shows that the Russians can be defeated. The Baltic countries understand this, they know what Russia is capable of and there is total consensus among the political parties".
Soviet occupation
The war in Ukraine, undeniably, weighs on the elections. Estonia suffered fifty years of Soviet occupation and has continued to fear its Russian neighbor since regaining its independence in 1991. "The tone of the election campaign is calmer than usual, it is very unusual, declares to the World Urmas Reinsalu, Minister of Foreign Affairs. But the outcome of the war in Ukraine is existential for us. The social situation is tense, with inflation reaching 19.4% in 2022 and a recession of 1.3% of GDP. "Inflation has been very hard for many Estonians to bear, but most [de nos concitoyens] understand that it is necessary to accept this consequence of the war in Ukraine", explains Kristi Raik, deputy director of the International Center for Defense and Security, in Tallinn.
You have 54.76% of this article left to read. The following is for subscribers only.
---
---