---
03 March 2023 at 12:51
Ragne Wiklund had to get used to the expectations after she became very surprising world champion in the 1,500 meters in 2021. On Thursday, the 22-year-old Norwegian skated as the top favorite to World Cup gold in the 3 kilometers by beating Irene Schouten.
Wiklund has been busy with numbers for the past two weeks, but it has not been about lap times or race schedules. She used her study of environmental physics as a distraction towards the World Championship distances.
"I've tried to think about everything but my 3km race," says Wiklund with a laugh. "It's civil engineering, a lot of math and data science, so it's completely different from skating. It helps me get my mind off things."
The all-round star from Oslo knew that she would be the top favorite at a World Cup for the first time in her career in Heerenveen on Thursday. She won four of the five World Cup races over 3,000 meters this season and set a track record two weeks ago at the World Cup final in Poland.
"Of course I felt that tension," says Wiklund. "When I first thought about my race during cycling training on Wednesday, my heart rate immediately went up twenty beats. But I immediately decided that I wanted to enjoy my last 3 kilometers of the winter. And that I wanted to do the same as on all my other rides."
That tactic worked. Wiklund drove a flat race in Thialf and, with 3.56.86, was more than half a second under the time of Olympic champion Schouten. "I am very relieved," says the winner. "But I can't say I'm completely surprised." Smiling: "It's completely different from my previous world title."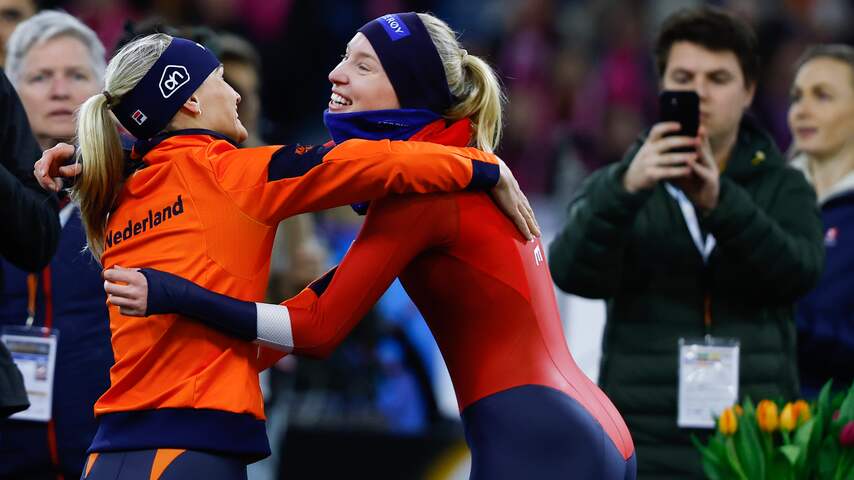 Ragne Wiklund (right) receives congratulations from number two Irene Schouten.Photo: Pro Shots
Wiklund could hardly believe the previous world title
Two years ago, Wiklund was already with World Cup gold around her neck in Heerenveen. She caused a big surprise by beating big names such as Brittany Bowe and Ireen Wüst in the 1,500 meters at the age of twenty. "I remember very well that I had to wait a long time after my race. When I won, I thought: how did this happen?"
Although skating in Norway is no longer as popular as in the last century, Wiklund became a well-known name in her own country due to her world title. "If you win global gold in Norway, you have bought your living. Ragne suddenly belonged to the greatest athletes in the country," says Norwegian national coach Bjarne Rykkje.
With that status came new expectations. Rykkje: "People in Norway thought that Ragne would win gold again at the Olympic Games. She has always been realistic in her expectations, but the tension was still too much for her."
Wiklund has learned to deal with pressure
Wiklund did not come close to a medal at her Olympic debut in Beijing a year ago. She was fifth in the 3 and 5 kilometers and, as the reigning world champion, even fell outside the top ten in the 1,500 meters (twelfth place).
Rykkje: "We talked a lot about this with Ragne immediately after the Games. It was clear that she had behaved differently in China than usual. And that she first had to get that mental part in order in order to win again. She took that right away very well. In the last games of last season it went a lot better."
This winter, Wiklund firmly settled in the world top, with the gold on Thursday in Thialf as the ultimate confirmation. "The best thing about this victory is that Ragne shows that she has learned to perform under high pressure," says Rykkje. "After this second world title, it is clear that she can handle the pressure well."
---
---