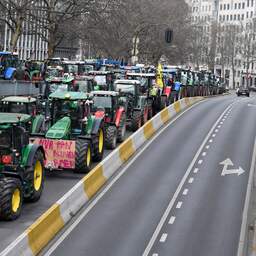 ---
03 March 2023 at 14:39
Thousands of farmers gathered in the center of Brussels on Friday in protest against the nitrogen policy. More than 2,700 tractors have come to the Belgian capital from all corners of Flanders, the police report. The organizers of the protest say there were even more than three thousand.
Just like in the Netherlands, agriculture in Flanders must work in a more environmentally and climate-friendly way and emit less nitrogen. The farmers fear that new, stricter fertilizer regulations will cause a "socio-economic carnage" in the agricultural sector. They hope to be able to assert themselves to avert that while the Flemish government is still negotiating the precise measures.
The farmers will meet on Friday in the administrative heart of Brussels, where the Flemish government and parliament are also located. They drove through the city in their tractors with protest signs, red farmer's handkerchief, flashing lights, blaring horns and flags. A single farmer had a gallows attached to his tractor and, according to the Belgian newspaper Het Laatste Nieuws, smoke bombs were also thrown.
The miles of columns of tractors were delayed and arrived later than planned. Traffic jams arose in a few places, but there has been no major traffic disruption for the time being.
Friday is a relatively quiet day on the road in Belgium and the police had advised commuters against coming by car. Several tunnels in Brussels were already closed as a precaution. Because the farmers will probably not leave until the end of the afternoon, there are concerns about the evening rush hour.
---
---