By Jeroen van Barneveld
---
Mar 02, 2023 at 8:40 PMUpdate: 5 hours ago
Even after a tough season, Irene Schouten could not enjoy her silver medal in the 3 kilometers at the World Championship distances in Heerenveen. The three-time Olympic champion is too bad for her loss. She is happy with the way she established herself in Thialf.
Schouten looks around from the second step with a straight face. During the podium ceremony, the skater barely smiled, who became addicted to winning after her golden season with three Olympic titles. The place on the podium where she stood so often is now for the Norwegian Ragne Wiklund.
Even after a season in which 'The Queen of Beijing' succumbed to the attention of the gold medals, the winner's mentality is emerging in Schouten. She is visibly more disappointed by the lost title fight than she enjoys the silver medal. That while she only just qualified for the World Cup last month.
Schouten speaks of a double feeling. "I'm really happy with how I came back. Especially when I see how I was a month ago. Still, I can't handle my loss very well. Of course Ragne Wiklund is the best now, she has driven the fastest. I have only don't feel like I can't beat her."
Schouten noticed during training last week that she was getting better. "I just didn't skate like I did back then. I know it's in there. I'm bummed about that. But I can't blame myself. I did everything I could to be as good as possible this weekend."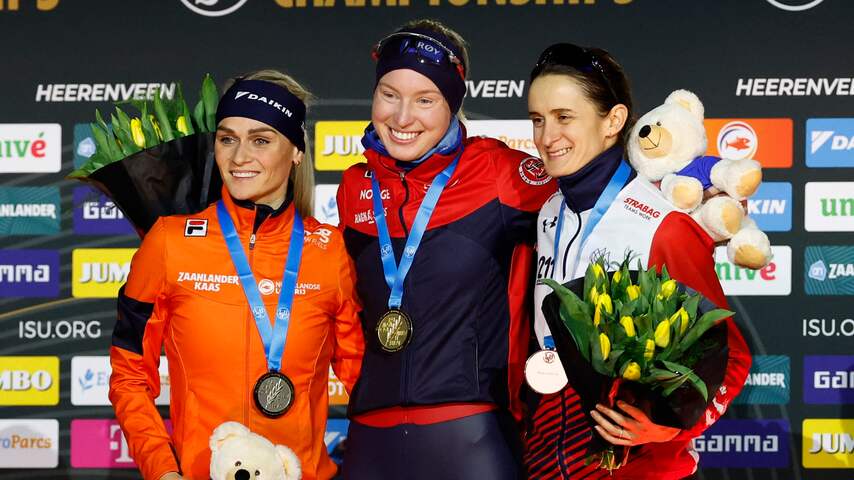 Irene Schouten had to give in on the 3 kilometers. Photo: Reuters
'This time I normally drive on Wednesday'
Schouten nevertheless says that she is still far from her top form. With her 3.57.40 she was only half a second slower than Wiklund. "I ride at a basic level and not in top form. If someone drives 3.57, I wouldn't be shocked."
"This is a time I would run if suddenly on a Wednesday I was told to race. I crossed the finish line, saw my time and thought: this is not enough. I knew that right away. For the super form I needed a little more time. Or I indicated too late that things are not going well."
For Schouten, the biggest benefit is that she feels good about herself. She looks much more cheerful than when she set a track record in Thialf in November and only put a finger in the air with a pale face. She realizes that too. "It's just a bit annoying that you can't handle losing so well."
Schouten will be back in action on Friday in the team pursuit. She then continues her title fight in the mass start (Saturday) and the 5 kilometers (Sunday). The 5,000 meters for women is the last distance in the World Championship distances, which started on Thursday.
---
---