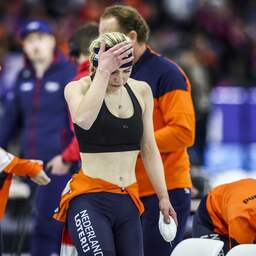 ---
03 March 2023 at 21:05
Joy Beune was angry and emotional on Friday after the painful disqualification for the Dutch skaters in the team pursuit at the World Championship distances. She felt guilty because her ankle wasn't completely covered. That cost the Orange trio the world title.
"I ruined it for the girls and myself. That gnaws at me," said 23-year-old Beune with tears in her eyes. "Irene (Schouten, ed.) and Marijke (Groenewoud, ed.) Said that I had done very well and that there was nothing I could do about it. They reassured me and hugged me all the time. But this is my fault and that feels very sour."
According to the rules of the International Skating Union, the skaters' skin – except for the face – must be completely covered by cut-resistant material in team events. This is for safety. During the team pursuit, mass start and team sprint, the skaters ride close together and there is a chance that one skater will hit the other skater with a skate.
A piece of skin is always visible between the end of the skating suit and the beginning of the skating shoe. To solve that, the riders all wear a protective sock. Beune's sock was still good before the race, but it crept up during the ride. As a result, her skin was not completely covered. The Dutch referee Berri de Jonge was unrelenting and disqualified the Dutch team.
"I was checked before the race, everything was protected," says Beune. "I always put those socks in my shoes, but now they came off during the race. I can't help that. But apparently that is how it is punished. We went to the referee, but we are unlucky that he is very of the rules."
The trio Schouten, Groenewoud and Beune, who rode together for the first time in a race, had set the fastest time in Heerenveen by far. The difference with Canada was almost two seconds. The Canadian team is still world champion due to the disqualification.
---
---