---
03 March 2023 at 00:01
Patrick Roest went so deep on Thursday at the 5 kilometers in Heerenveen that he barely had energy left for a lap of honor. The 27-year-old skater accepted the pain with a smile, because he finally won his first individual title at the World Championship distances in front of his own audience.
Roest is half an hour after his 5,000 meters halfway through an answer when he apologizes to a group of journalists. "I really need to sit down," he says, while Thialf's corridor is hurriedly looking for a chair. "I'm still totally fucked up, feeling dizzy and nauseous."
The leader of Team Reggeborgh went over his limit on the opening day of the World Cup to fill the big gap on his honors list. He was already a three-time world all-round champion, four-time European champion and eight-time Dutch champion. But in the two most important tournaments – the World Championships distances and the Olympic Games – it was often just not so (six times silver and two times bronze).
"Of course I knew that there was a lot of pressure on these 5 kilometers," says Roest. "If I didn't win gold again, there would only be more stories about my problems at World Cups. This was a very big chance to prevent that. And I really wanted to take that chance."
De Lekkerkerker is shocked when he sees that his main rival Davide Ghiotto starts the stage in front of him very strongly. The Italian is in the first part of his race around the track record schedule, but is unable to maintain that fast pace. With 6:11.12 he still records a great time. "Ghiotto's start made me nervous," says Roest. "But I also knew it was possible to skate faster."
The Dutchman is indeed on course for gold halfway through his 5 kilometers. "But with five laps to go I already felt that my body was exhausted. Maybe that was because of the pressure," says Roest, who nevertheless dives under Ghiotto's time (6.08.94). "I didn't see or get much more in the final phase of my race. It hurt a lot, but because of that gold medal I now have a very good feeling."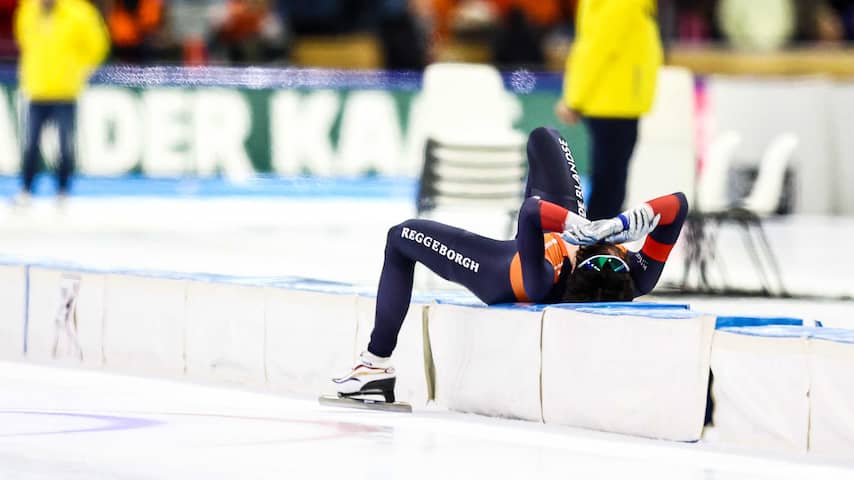 Patrick Roest is completely broken after his 5 kilometers. Photo: ANP
'Rust has been hiccuping against this for years'
Shortly after his winning race, Roest lies exhausted for minutes on the cushions along the track in Thialf. His coach Robin Derks talks to him, although those words do not arrive. "I must honestly say that I don't remember very well what Robin said to me," says the brand new world champion.
"I told Patrick that he finally succeeded. And that he can skate freely from now on," says Derks a little later. "I am very happy for Patrick. He has been hiccuping against this for years. Then you just have to do it."
Roest made the surprising switch from Jumbo-Visma to Team Reggeborgh last year. Derks was therefore given the task of leading the all-rounder to World Cup success. "I know Patrick's history, of course that plays a role," says the coach. "In his head is the idea: shit, it won't go wrong again, will it? You saw today that he had to give a few extra percentages."
According to Derks, that makes it even more impressive that Roest was finally on the highest step of the World Cup podium in Thialf on Thursday. "In every interview for the World Cup, it was about the fact that he had not yet won an individual world title. That makes sense, but it is also annoying for Patrick, of course. I think it's very cool that he has handled that pressure so well. That is actually already a victory on it's own."
That victory was not yet celebrated exuberantly in Thialf on Thursday evening. "I don't have enough energy for that right now," says Roest with a faint smile. "Even the lap of honor hurt, I really just wanted to sit. The celebration will come when I have recovered."
---
---