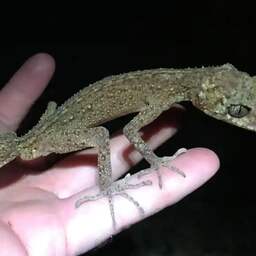 A new leaf-tailed gecko species has been discovered on an uninhabited Australian island. The animal is about 15 centimeters long and looks like a small dragon.
The gecko has a beak-like face and a pointed, leaf-shaped tail. The scientific name is Phyllurus fimbriatus.
The lizard was discovered on Scawfell Island, a rugged island 50 kilometers off the coast of the northeastern town of Mackay.
The gecko was spotted during a James Cook University study of the wildlife on the island, which belongs to the state of Queensland. There are many rocks, fig trees and ferns. About thirty geckos were found among the leaves.
The animal only eats meat and is well camouflaged. "They look like mottled rock," the researchers say.
The discovery on the hot island is remarkable, because the animal is not very resistant to heat. The lizard needs shelter to withstand the heat and drought. Therefore, the geckos probably hide under the rocks during the day. At night they come out to hunt insects, spiders and smaller geckos.
---
---