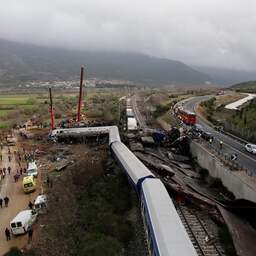 Everything points to Wednesday's head-on train collision in Greece being the result of "tragic human error." This has been stated by Prime Minister Kyriakos Mitsotakis. The death toll after the train accident stands at 38, but is expected to rise further.
There are still 57 injured in the hospital. Six of them are in intensive care. Relatively many young people are among the victims. The prime minister has visited the disaster site and expressed his condolences to the victims and the relatives. He has also commissioned an independent investigation into the tragedy.
A freight train and a passenger train were involved in the accident. They drove on the same track for miles before colliding. The station master of the town of Larissa, responsible for giving signals, has been arrested on suspicion of negligence. He denies guilt and points to possible technical failure.
Since the accident, discussions have been going on in Greece about whether the accident could have been avoided. A protest in Athens spiraled out of control on Wednesday night. Demonstrators threw stones at the headquarters of the involved private rail company Hellenic Train. Police used tear gas and flash grenades to disperse the crowd, according to the Greek newspaper Kathimerini.
---
---