By Jeroen van Barneveld
---
Mar 01, 2023 at 05:16Update: 5 minutes ago
Irene Schouten burst into tears three weeks ago in front of the camera. The skater had become exhausted by all the attention she received after her three Olympic titles. After a period without obligations, she will be happy to be back on the ice at the World Championship distances on Thursday. "A weight has been lifted off my shoulders."
Schouten recently went cycling with a friend. "He said on the way, 'It's kind of weird, isn't it? You're a three-time Olympic champion and you don't feel happy. When you were 17 and won a marathon, you felt great.'"
The remark got Schouten back home in Andijk thinking. How could it have come to this? She had always dreamed of a gold medal at the Olympic Games. Just when she had reached the ultimate, she no longer took pleasure in her passion.
Schouten played theater for months, as she puts it herself. When she felt bad, she told her she was fine. She found it difficult to talk to people. Training and competitions were increasingly against her. She did everything reluctantly. The nadir was crying spells.
In December she told her coach Jillert Anema about it for the first time. He saw his great fear come true in the post-Olympic season and stepped on the brakes: Schouten got a break. But it didn't get much better. When the Olympic champion narrowly finished third in the 3 kilometers at the NK distances at the beginning of February, everything came out.
Crying, she told the camera that she had been fighting herself for a while. The 'Queen of Beijing' couldn't say no to all the sponsorship commitments, photo shoots and interviews that had come her way after the Games. It had all become too much for her. She had even developed a rash on her body from all the stress.
Irene Schouten had been through it a lot in recent months. Photo: ANP
Period without appointments works
Shortly after the NK, the result disappeared at Schouten. "I think a weight has fallen off my shoulders," she says in a hotel in Wolvega on Wednesday. "In one go I felt a lot better. I didn't have to play anymore."
Schouten canceled all appointments with friends, sponsors and journalists after the NK. Her days revolved around eating, exercising and sleeping. At home she entertained herself with series or a sudoku, just like in Beijing. She hadn't been going to the supermarket for some time, because otherwise she would have to "act nice" for others. That only cost her energy.
"I noticed that there was a certain peace in my head. At home they also said that I was less stressed. We always had to eat quickly, because I still had to go somewhere. I no longer had that. I could stay calm at the table to sit."
What helped her were messages from fellow champions such as Gianni Romme, Jochem Uytdehaage, Sven Kramer and Kjeld Nuis. "They all understood it. So I wasn't the only one who had experienced this. That's nice."
Schouten meanwhile spoke with trainers Anema and Arjan Samplonius. Could they or Schouten have prevented this? Her conclusion: "Last year happened to me. I might have been able to say no to a few more things. But I had planned the entire summer and that went well. So I thought: it's fine. But that turned out not to be the case later. are."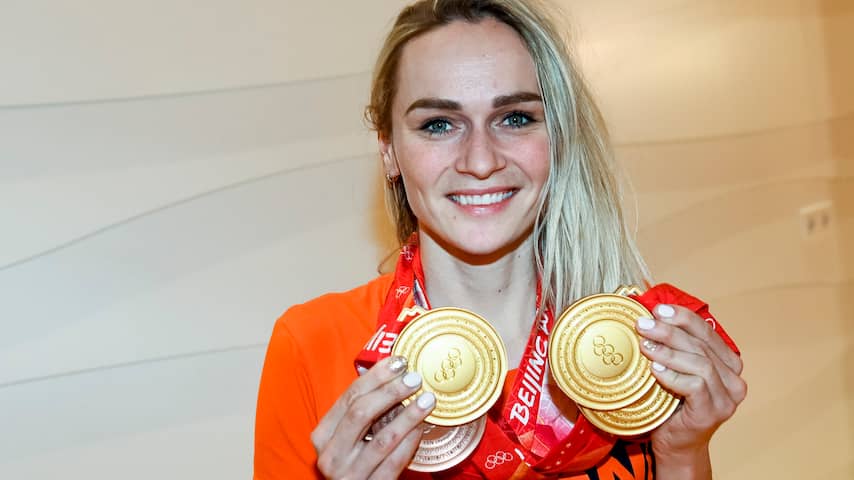 Irene Schouten was 'The Queen of Beijing' with three gold medals. Photo: BrunoPress
Schouten is not afraid of repetition
Schouten feels better in the days leading up to the World Championship distances in Heerenveen, but she is not completely fresh. Why is she still participating in the World Cup? "It's a nice challenge not to compete in 'super super form' against someone who is (her Norwegian rival Ragne Wiklund, ed.)."
The biggest benefit is that she gets pleasure out of skating again. "Especially because things are going better now. That makes me want to skate again. A few weeks ago I was disappointed with how I skated and went home with a bad face, hoping that things would go well the next day. That didn't happen. Every time was a disappointment. Now I enjoy."
Therein lies a pitfall, says Schouten. Because she felt better, she started scheduling appointments again during her 'rest period'. "But I have agreed: I will not do anything until the World Cup. After that I can plan things again. I will be full again from Monday."
Schouten is not afraid that things will go wrong again. Her skating season is over after Sunday. After a week full of obligations, she goes on holiday with friends for 2.5 weeks. "Then I can't do that much. And at least I won't have any more training sessions for a while."
If Schouten becomes world champion in the 3,000 meters (Thursday), mass start (Saturday) or 5,000 meters (Sunday) in Heerenveen, she hopes to feel like a seventeen-year-old girl again. Like the girl who enjoys a victory to the fullest, without stress and worries.
Trainer: 'Irene did not have to drive the World Cup'
Trainer Arjan Samplonius is happy that Irene Schouten has shared her story with the outside world. "I'm happy with how she is now. It's a lot calmer. She needed it for a while. She also has peace towards the game."
Schouten skipped the World Cups in Poland and has only skated a few marathon races in recent weeks. "She liked that and she enjoyed it. That was important. In Poland she would get the stress of traveling again. In the hotel room the walls come at you if you are not feeling well."
"We said she would get all the time and space from us to recover. If she hadn't wanted to ride the World Cup distances, that wouldn't have been a problem for us. Forcing people doesn't help. But she's in good shape and is fine. I think she can win."
---
---