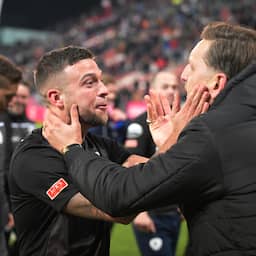 ---
Feb 28, 2023 at 10:31 PMUpdate: 6 minutes ago
The Spakenburg players couldn't believe their luck on Tuesday after the sensational 1-4 victory over FC Utrecht in the quarterfinals of the TOTO KNVB Cup. The amateur club even dares to think about European football.
Just like with the surprising victory over FC Groningen (2-3) in the second round, Floris van der Linden was one of the stars of Spakenburg. "We came here thinking something was possible," the captain said after ESPN. "Otherwise you might as well stay home."
"Well, if you had said this in advance… Stop it, stop it. No one would have believed that", grinned the tall striker, who himself was responsible for the 1-4. That was the capstone of a historic evening. Spakenburg is only the third amateur club in history to reach the semi-finals of the cup tournament.
"In the final phases I was through it all: hamstrings, calves … everything was filling up," said Van der Linden. "But I wasn't the only one. You notice that this is a higher pace, although I was not too disappointed with how big the difference was. You can expect more from FC Utrecht."
Show only the PictureShow only the PictureSlideshow: the most beautiful pictures of Spakenburg's cup stunt
'Looked at Sneijder a lot'
Wimilio Vink had scored the best goal of the evening with the 0-1. The midfielder took a cross from Luuk Admiraal full on the slipper and hit the target. "I'm pretty good at it," said Vink with a sense of understatement. "I really only had to walk in."
"I have indeed watched a lot of Wesley Sneijder", Vink responded to a comparison that forced itself on reporter Hans Kraay. "Now on to the semi-finals. I have already booked the tickets for the Europa League."
To reach that European tournament, Spakenburg still has to win twice. First the players want to celebrate this cup stunt. "Last time, when we beat FC Groningen, it was 4 o'clock," said Van der Linden, as he headed towards the festivities. "So it will be later now."
---
---