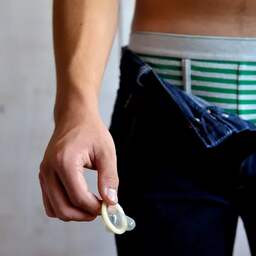 Two men from Rotterdam will be in court on Tuesday because they took off a condom during sex without the knowledge of their bed partners. According to a spokesman for the court in Dordrecht, such criminal cases have never happened before.
This article is from AD. Every day a selection of the best articles from the newspapers and magazines appears on NU.nl. You can read more about that here.
The men aged 26 and 28 are on trial for rape in two separate cases with different victims, because the so-called stealthing is not a separate offense in the criminal code. Experts speak of stealthing when a male partner removes the condom during sex without consent. Then there is forced unsafe sex, according to the initiator of the website Stealthing.nl.
Figures for 'condom cheating' are not available, as they fall under the general heading of rape or coercion. "Abroad, people have already been convicted of rape by stealthing. In the Netherlands, the word is not yet widely known," says the creator of the website, who herself became a victim in 2017. Her report did not lead to a lawsuit. "My first thought was: 'What a jerk and what a bad date'. But thanks to my doctor, I realized that I had been assaulted."
Lawyer Mirjam Levy will assist one of the suspects on Tuesday. "As soon as sex takes place and not against someone else's will, then there is no coercion," she says. "If someone finds out afterwards that the conditions have not been met, it does not mean that there is coercion."
"It is easy to say that if the sex was voluntary, then it is not punishable. I also noticed that when I reported it to the police. I had to talk like Brugman when I had to explain to a vice detective that my bed partner had taken off the condom , while I had clearly stated in advance that it would not take place without a condom," says the initiator of Stealthing.nl. "If my bed partner had asked if it was allowed without a condom, I would have said 'no'. And then there would have been coercion if he had continued."
Safe and healthy
Her goal with the website is 'to encourage victims, to provide them with information and to make it clear that it is not their fault and that it falls under sexual violence.' She does this by sharing stories of others and giving tips. "Make sure you are safe and healthy, get checked for STIs and if you have the strength, report it."
Victim lawyer Richard Korver, who is not involved in the criminal case, says he is very curious about the outcome of the criminal process: "Sex without a condom without informing the partner can be a form of sexual violence. There has been sex by abusing circumstances. If the judge wants to think creatively, you can classify that as rape, although it would be better to also be charged with threats. Tolerating something by misusing a fact."
---
---