By Robbert van der Linde
---
27 Feb 2023 at 05:10
More and more Dutch people return from winter sports with serious knee injuries. After two corona years with little effort, the risk of injuries is very high. Specialists warn that experienced winter sports enthusiasts are also advised to slowly build up their effort again.
The consultation hours of orthopedic surgeon Martijn Brinkman in the Viasana clinic in Mill in Brabant have been completely full for weeks. The knee doctor cannot separate this from the fact that after two years of corona measures people can 'normally' go to winter sports again.
"We see that line of knee injuries continuing. There was a large peak of knee injuries during the Christmas holidays. This is because people have started skiing again after two years and mainly untrained."
The days of Reinoud Brouwer of the Martini Hospital in Groningen are also filled with operating broken knees. The doctors saw the first revival when sports in groups were allowed again. Especially on the football field, people fell to their knees.
"But that has now returned to a normal level. Now it is mainly due to winter sports. It is purely the result of the fact that people start doing more after a while of inactivity," says Brouwer.
"If you have not done anything for a while, you have the greatest risk of injury. Skiing is an extreme example, because you don't do it for a long time, and suddenly you go again. In football you can build up something with training, but this is less the case in winter sports."
Young people and older women
The surgeons see patients of all shapes and sizes, but two groups have stood out since the end of the corona measures: fanatical young people and older women.
Brouwer talks about two Dutch men who went to give ski lessons in Austria this winter. "They are both in their early twenties, fit and have a lot of experience. But they hadn't skied for over two years either. They were both back with knee injuries within a few weeks. So it even happens to people with enough experience to be a teacher."
Brinkman often sees older women pass by on the treatment couch. "A little too untrained, a little too overconfident," he describes them. "Some had to ski after their children, and then made an unexpected, wrong move."
Women have a higher risk of knee injuries anyway, especially in the week before their period. Girls experiencing this for the first time have the greatest risk. That's because their bodies also change in ways they sometimes don't realize, such as their skeleton and gait.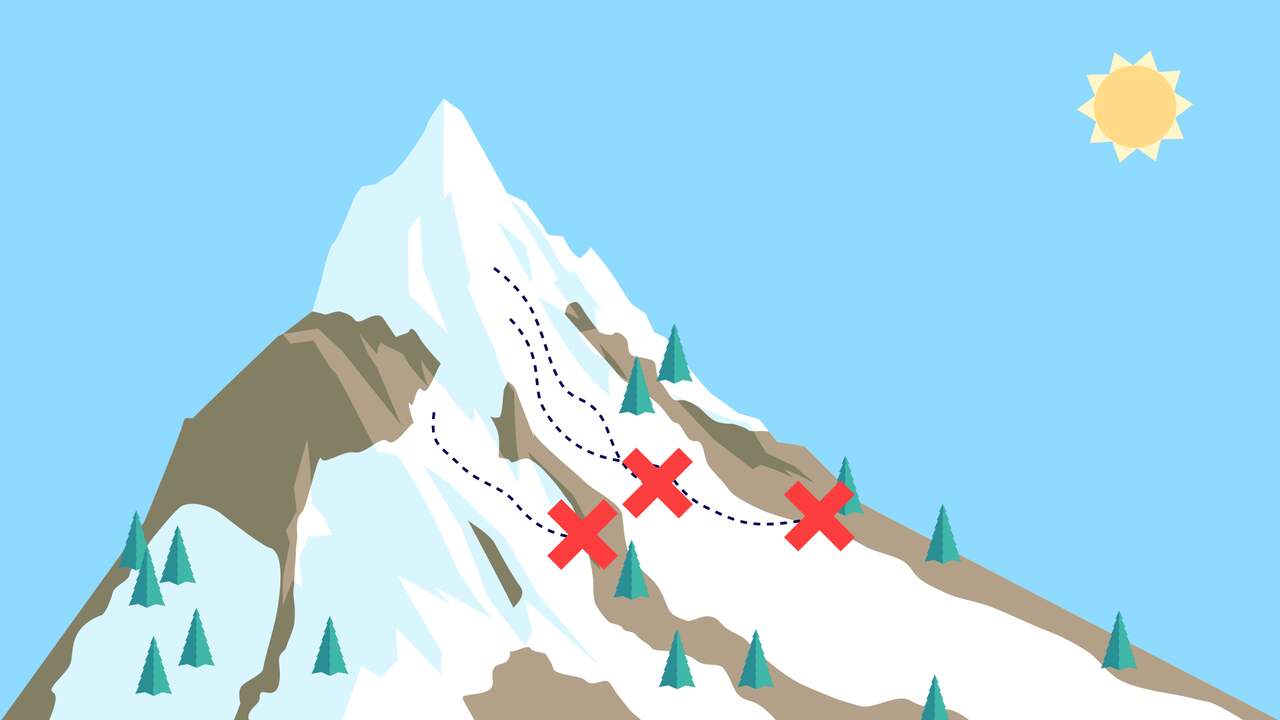 1:18 Play button
Peak winter sports injuries around spring break
Both doctors expect to see a lot of new knee patients in the near future. The North and Central regions started spring break last weekend. The South region has been back since Monday. Spring break is a popular period for winter sports, which also traditionally means a peak in injuries.
Brinkman thinks it will "rain torn cruciate ligaments again" from next week. The first peak around the Christmas holidays was further pushed by moderate snowfall, resulting in narrow slopes and therefore more unexpected movements. "But even then the sudden load was the main reason," says Brinkman. That is why the specialist expects another peak during the busier spring break, even though the snow is good now.
Brouwer also expects the necessary calls in the near future. "Most accidents happen on the first or last day of the winter sports holiday. On the first day, people still lack control and feeling. On the last day, people become overconfident."
According to Brouwer, people often forget that cruciate ligament injuries are usually caused without contact. "In skiing, it happens when you turn slowly and your ski doesn't come off, leaving you 'stuck'. It can happen to anyone, especially if you're back on skis after a long time."
Both doctors therefore advise experienced winter sports enthusiasts to build up slowly. "Don't immediately go down the black slope. If the muscles in your legs are not properly trained, there is a good chance that it will go wrong," says Brouwer. Brinkman adds: "Go to an indoor ski slope again, or on such a carpet. Build up your muscles and condition before you go back into the snow."
---
---