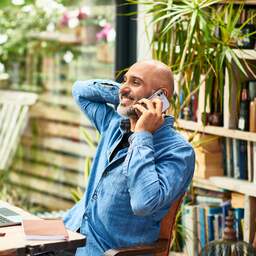 By Tim Wijkman-van Aalst
---
Feb 27, 2023 at 09:43 Update: 3 minutes ago
The mobile networks of KPN, Vodafone and T-Mobile are the best networks in the world. This is evident from a comparison test by the German research agency Umlaut. KPN's mobile network even achieved the highest score ever measured.
For the purpose of comparison, Umlaut had researchers travel through the Netherlands on foot, by train and by car. They measured the quality of the networks with equipment at all times. In addition, the research agency uses data collected with apps.
The measurement institute has tested the network coverage and the ability to make telephone calls or use mobile internet connections. The measurement results were then converted into points. The maximum score is one thousand points.
According to Umlaut, KPN has achieved the highest score ever: 980 points. According to the research agency, this means that the company has the best mobile network in the world. With 969 points, T-Mobile is in second place. Vodafone follows with 963 points.
The differences between the three networks are small, Umlaut underlines. They are hardly even noticeable to users.
Our fixed networks are also among the best in the world
Umlaut has also tested the fixed networks in the Netherlands. Among other things, the upload and download speed and latency (the delay in the connection) were measured.
KPN has thus achieved 944 of the 1,000 points. That score is good for first place. Ziggo follows with 936 points and T-Mobile is in third place with 927 points.
According to Umlaut, this also means that the fixed networks are among the best in the world.
---
---