Fortunately, the end of the iconic duo of Ash and Pikachu does not have to mean the end of Pokémon. Netflix is ​​announcing a new stop-motion series today: Pokemon Janitor. The series will appear on the streaming service 'soon'.
Resort
When the news about the end of a Pokémon era was announced at the end of last year, it also became clear that there were plenty of plans for new Pokémon. In the teaser of Pokémon Concierge, one Pokémon can already be seen waddling towards the 'Pokémon resort'. No doubt many more will follow later, because the new series is about the hostess who receives and cares for the most diverse Pokémon every day.
Pokemon Day
The first images are therefore not too generous yet, but there is plenty to look forward to. Daily Nintendo reports that the original series will contain elements of the anime, the manga and the games. The announcement was part of a special 'Pokémon Presents', which not coincidentally took place today; It's Pokémon Day on February 27.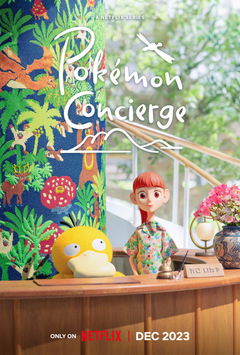 Watch on Netflix • Expanding the Pokémon world, the story follows Haru, a caretaker at the "Pokémon Resort", and her interactions with Pokémon and their owners who drop by as guests.
More later
If we can share more about the new series, we certainly won't; for now we have to make do with the news that we can expect Pokémon Concierge on Netflix soon. Check out the full Coming to Netflix overview here.
Image: Still 'Pokémon Concierge' via Netflix
---