Every day we highlight the best movie on TV to make choosing a movie to watch on TV even easier. A number of good films will be broadcast again this week, with our favorite of the week, the true story Just Mercy (2019).
Featured movies on TV week 9
Today you watch Liam Neeson on RTL7 Taken (2008). Former CIA agent Bryan Mills (Neeson) reluctantly agrees to take his 17-year-old daughter Kim (Maggie Grace) on a trip to Paris. His ex-wife Lenore (Famke Janssen) and her new husband Stuart (Xander Berkeley) fully support it and Kim leaves with a girlfriend. However, upon arrival in Paris, Kim and her friend are kidnapped by gangsters who run a prostitution gang. Bryan's only clue is a snippet of conversation from when Kim called him in a panic. This allows him to find out the origin of the speaker and to which criminal gang he belongs.
You look at Tuesday The Departed (2006). Undercover cop Billy (Leonardo DiCaprio) infiltrates mob boss Costello's (Jack Nicholson) syndicate. Criminal Colin (Matt Damon) also works for the police as Costello's informant. Both men become entwined in the double life where they collect information about the organizations they have entered. The classic can now also be seen on HBO Max and via Pathé Thuis.
On Wednesday, Veronica will broadcast the Oscar-winning horror thriller Jaws (1975) based on the book of the same name by Peter Benchley. The film was directed by Steven Spielberg and won three Oscars.
On Thursday, watch Josh Brolin in Only the Brave (2017). Led by Eric Marsh (Brolin), his team uses their determination and sacrifice to save a community and become one of the best firefighting teams in the country.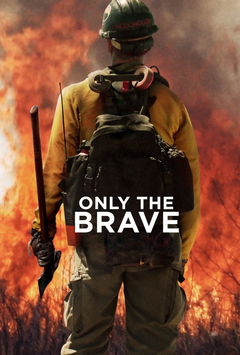 7.6 Watch on HBO Max • Movie based on the true story of the Granite Mountain Hotshots, is the heroic story of a unit of local firefighters.
Friday you look at the true story Just Mercy (2019). Bryan Stevenson (Michael B. Jordan) is a Harvard graduate who heads to Alabama to defend those who have been wrongly convicted or who have not been given proper representation. He meets Walter McMillian (Jamie Foxx) on one of his first cases, who was sentenced to death in 1987 for the murder of an 18-year-old girl despite the evidence in his favor. Stevenson faces racism and legal setbacks as he fights for McMillian's life.
Saturday is on Paramount Network Argo (2012) can be seen. Under the guise of a Hollywood producer looking for a location for a sci-fi movie, a CIA agent launches a dangerous operation to rescue six Americans in Tehran during the 1979 American hostage crisis in Iran.
Paramount Network ends the week with V for Vendetta (2005), which tells the story of Evey Hammond (Natalie Portman) and her unlikely but instrumental role in bringing down the fascist government that has taken control of a futuristic Britain.
Is there nothing here for you, or have you already seen the above films? Then view the complete overview of all films on TV every day via the next page.
Beeld: Still 'Only the Brave' via TMDb
---