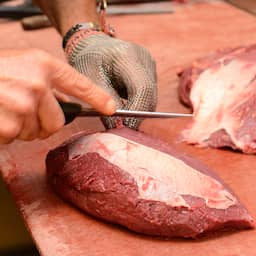 A survey by the Consumers' Association showed that veggie burgers are often too greasy and too salty. However, this imitation meat is often healthier than hamburgers made from beef. On our response platform NUjij, readers discussed eating meat. How healthy is that really? And how (un)healthy is red meat exactly? That's right.
Many chronic, life-threatening diseases, such as obesity, diabetes and various types of cancer, are defined by a poor diet. This emerged from a three-year study from 2019 in which 37 specialists participated. The researchers say that an unhealthy diet currently claims more victims than unprotected sex, alcohol and drug use and smoking combined.
Eating red meat and sugar should be reduced by 50 percent in an average diet, while eating fruit and vegetables should be doubled. This is problematic in some parts of the world, such as North America. There, residents eat almost 6.5 times as much red meat as recommended. In South Asia, on the other hand, people eat only half of the recommended daily amount of meat.
Increased risk of cancer
Red meat (meat from mammals, such as cattle, pigs and game) and processed meat (such as processed meats and sausages) increase the risk of colorectal cancer. Red meat owes its red color to the natural dye heme iron. The body can break down that substance, but when we consume too much of it, it can damage the colon and eventually lead to cancer.
Eat a maximum of 500 grams of red meat with meals every week. Replace red meat with chicken or fish and opt for vegetarian more often. It is best to avoid processed meat or eat very little of it. There is no known safe amount of processed meat.
It comes down to the following, says Ellen Kampman, professor of Nutrition and Disease at Wageningen University: our body is an ingenious system in which countless mechanisms work together to keep us as healthy as possible. Anyone who moves a lot and only eats what his body really needs as nutrition, takes good care of his / her body.
A healthy diet and lifestyle are no guarantee against cancer, she emphasizes. But by living healthy you significantly reduce the risk of cancer.
Did you find this article via Net In? You can find similar documents every day via the NUjij button at the bottom of your app.
---
---