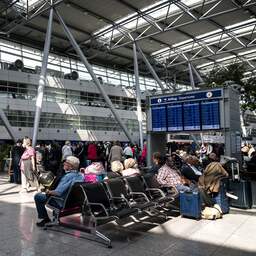 ---
Feb 26, 2023 at 6:06 PMUpdate: 3 hours ago
Between 06:00 Monday and 06:00 Tuesday, 131 passenger flights at Köln Bonn Airport are cancelled. It concerns 66 departing and 65 arriving flights, the German airport reports on Twitter. Work has also been halted at other German airports.
At Düsseldorf airport, strikes will take place in the same period. About two hundred departing flights will be canceled there, Düsseldorf Airport estimates.
The Hamburger Morgenpost reports that flights in Hamburg will also be killed by the strikes. It would be at least twenty passenger flights.
The strikes were announced by trade unions Verdi and Komba on Friday. The reason for the work stoppages is the negotiations for employees in the public sector at the federal and municipal level.
The national negotiations for employees in aviation security are also at the root of the strikes. According to Verdi's Andrea Becker, employees have not yet received "an acceptable offer".
---
---