---
Feb 25, 2023 at 9:15 PMUpdate: 6 minutes ago
Dennis van der Ree says that a weight has been lifted from his shoulders after FC Groningen's 3-0 win on Saturday in the home game against Excelsior. It was the first victory since October 23 for the Groningen team, who had not won eleven times in a row in the Eredivisie.
"We have seized the last straw," Van der Ree said to ESPN after winning the Euroborg. "We were so hesitant about this. Finally it is no longer about the fact that we have been waiting so long for a profit."
The 43-year-old Van der Ree succeeded the fired Frank Wormuth during the winter break. In his first job as head coach, he must protect FC Groningen from relegation and the win over Excelsior finally offers some perspective. The 2015 KNVB Cup winner, who has played continuously in the Eredivisie since 2000, is three points behind Excelsior. The team from Rotterdam are in safe fifteenth place.
"To get away from the bottom we need more good results, we are not there yet. And let's be honest, we didn't play against Ajax today."
Position at the bottom of the Eredivisie
14. FC Volendam 22-20 (-24)15. Excelsior 23-20 (-34)16. FC Emmen 22-17 (-20)17. FC Groningen 23-17 (-23)18. SC Cambuur 22-13 (-25)
'I am convinced that we will get more points'
The 3-0 against Excelsior is FC Groningen's biggest victory since January 26, 2021, when ADO Den Haag won 3-0 at home.
"That makes this even more beautiful," said Van der Ree. "There are many things from this game that we can take with us to the next games. We have to keep the positive feeling and the commitment and then I am convinced that we will get more points."
FC Groningen has a heavy program in the coming weeks. Feyenoord will be the opponent in De Kuip in a week's time and an away match against AZ is scheduled for March 12.
Eredivisie round 23
Friday: Sparta-FC Utrecht 0-3 Saturday: Groningen-Excelsior 3-0 Saturday: Heerenveen-RKC 1-4 Saturday 8 p.m.: AZ-Cambuur Saturday 9 p.m. NEC-Volendam Sunday 12.15 p.m.: Fortuna-Feyenoord Sunday 2.30 p.m.: Vitesse- Ajax Sunday 2.30 pm: Emmen-Go Ahead Sunday 4.45 pm: PSV-FC Twente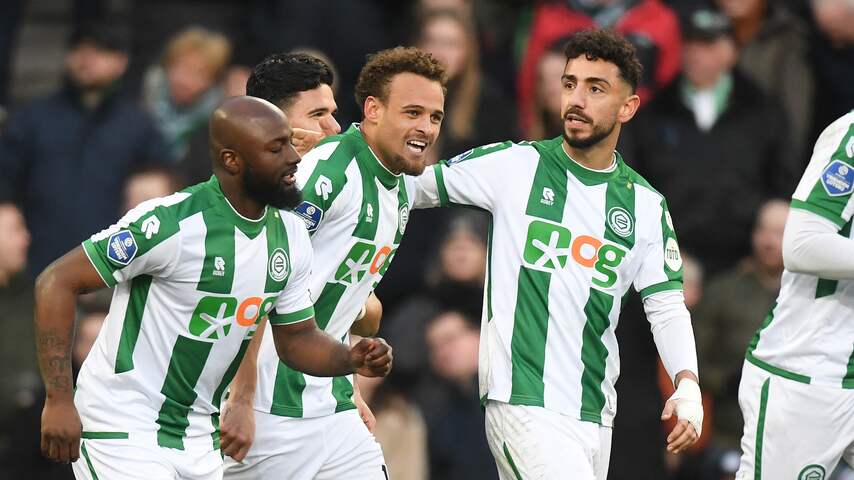 Joy at FC Groningen after Liam van Gelderen's 3-0. Photo: Pro Shots
---
---