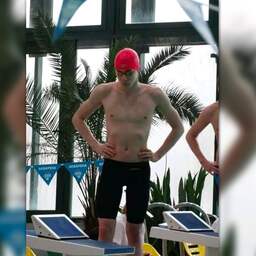 Borys Rudman (18) was a talented swimmer in Ukraine, until he had to flee with his family because of the war last year. Now he is working in a swimming pool in The Hague on his dream: qualifying for European Championships and World Cups. "When I train, there's nothing to bother me for three hours."
As a young boy, Rudman was afraid of water. "I hated it," he says. But there was a swimming pool less than a minute's walk from his home in Kharkiv, eastern Ukraine, so swimming was destined to become his sport.
When the fear gradually disappeared, Rudman turned out to have talent. As a junior he won medals at national championships and became a 'Master of Sports' at the end of 2021. Ukraine gives this title to athletes who have reached the highest level in their sport. "But I'm still waiting for my diploma," says Rudman. "Because three months later the war started."
The young swimmer tells his story at a long table in a monumental building in Katwijk. He has been living in that shelter since last year with more than 175 other Ukrainians. Just after the start of the war, Rudman fled with his parents, brother and grandfather in an overcrowded train from Kharkiv to the western city of Lviv. From there they traveled via Poland to the Netherlands.
With the help of a friendly family who already lived in the Netherlands, Rudman immediately started looking for a swimming club. Blue Marlins from The Hague gave the Ukrainian a place in its top sports group, so that Rudman was able to resume his sport barely a month after arriving in Katwijk. Even though in the beginning he had to cycle 22 kilometers to the Hofbad every morning – sometimes before sunrise.
"Sport helps with all the problems," says Rudman, who does ten swimming and four strength training sessions a week. "Of course I can never completely forget what is happening in our country. Relatives who are still in Ukraine talk about the sound of the rockets and bombs. I see the devastation on the news. But during a swimming training there are two or three hours nothing that bothers or disturbs me." Smiling: "Except my coach."
Sport for Ukrainian refugees
"Sport is pre-eminently a place to meet people, have fun and a place to forget traumatic experiences for a while," writes sports umbrella organization NOC * NSF on its site. Sports associations and clubs have therefore set up initiatives in the past year to help Ukrainian refugees to be able to play sports in the Netherlands.
'The Netherlands and Ukraine have completely different cultures'
Years ago, junior Rudman finished nineteenth in the 400-meter freestyle at the Ukrainian championships. "I was devastated," he says. "The name Borys Rudman, who was only in nineteenth place; I couldn't deal with that mentally. A year later I became twelfth and I thought: nobody still knows who I am."
Another year later, Rudman was on the podium after the 400 meters free at the national championships with a bronze medal. "Everyone wondered who I was, where I came from all of a sudden. From that moment on I knew that swimming is all about hard work and dedication. And that complaining wouldn't help me."
According to Rudman, "never complain" is the most important rule in Ukrainian swimming. Coaches are very strict and usually work according to programs that date back to the Soviet era. In his first weeks in Hofbad in The Hague, he had to get used to it.
"The Netherlands and Ukraine have two completely different sports cultures. Here your coach is your friend. You can call him by his first name and even have a beer with him. That is unthinkable in Ukraine, you always have to show your coach a lot of respect In the Netherlands, everyone respects their coach, but it is a lot friendlier."
Rudman now describes the Dutch working method as "a relief". "My results quickly got better. Much better, even. Moving to the Netherlands really gave me a boost. In Ukraine I swam without a big goal. Now I hope to qualify for the European Championship this year."
Rudman was on the podium at NK Kortebaan
At the moment, Rudman should only play for Ukraine in international tournaments. "But I would like to get a Dutch passport," he says. "I was welcomed here with open arms. People immediately offered to help me travel to training sessions and competitions. My swimming friends gave me stuff that I could use during training. Everyone is very friendly and social."
Becoming a Dutch national is not an easy process, but Rudman was already allowed to participate in the NK short course in The Hague at the end of last year. With silver (1,500 meter freestyle) and bronze (800 meter freestyle) in the boys up to and including seventeen years, he was immediately good for medals.
"I'm still a member of the Ukrainian Swimming Federation," says Rudman. "But I now see myself as a Dutch swimmer. Also because returning to Ukraine is not possible in the coming years."
Oleksandr Viun (14) found MMA club in Leiden
It is not easy for every Ukrainian to pick up his or her sport in the Netherlands. So had to Oleksandr Viun (14), who lives in the same shelter in Katwijk as Borys Rudman, searched for a few months to find a place where he could follow training for his favorite martial art (mixed martial arts, or MMA).
"Dutch MMA clubs are basically for people aged eighteen or older. That made it a bit more difficult," says Oleksandr. "But I eventually found a club in Leiden (Budho, ed.)."
MMA is a big sport in Ukraine, which is also practiced by many young people. Oleksandr started at the age of five and won his first national title seven years later. When the war broke out, he and his mother fled to the Netherlands by train.
"MMA is less popular in the Netherlands," says Oleksandr with a smile. "I'm here fighting guys much older than me. I beat someone who was 29 the other day. After the fight he came up to me and said, 'Well done.'"
The young Ukrainian sees MMA as a way to forget the war in his country for a few hours. "I like it at my club in Leiden. And it also helps me to practice my Dutch," says Oleksandr, who dreams of joining a professional MMA club in Amsterdam and winning the European Championship one day.
---
---