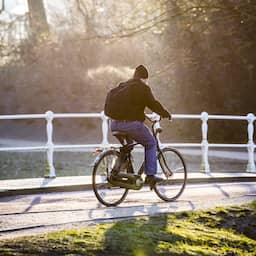 It will be colder this weekend than the past few days, but also sunnier. It will rain first on Saturday, but the sun will show itself during the day and it will be dry all day on Sunday.
Due to a high pressure area above Scotland, we are dealing with a northerly to northeasterly current from Saturday. As a result, temperatures will be lower than last week.
Saturday will start with rain and even hail here and there, but it will clear up from the north during the day. Then the sun shows itself more and more often. Above land we are dealing with a moderate wind. Above sea the wind can be strong.
The temperature will be between 7 and 8 degrees on Saturday, but because we are dealing with a relatively strong wind from the north, it can feel colder.
In the night from Saturday to Sunday the light will freeze. Temperatures of between -1 and -4 degrees are expected.
Sunday will be very sunny. The sun will shine all day and it will also stay dry all day. The wind is again strong and coming from the north. It will be slightly colder than the day before at 6 degrees.
---
---