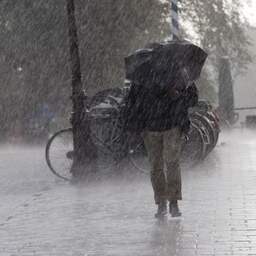 This morning it is mostly cloudy with regional drizzle. It is 8 to 10 degrees. Friday it cools to close to freezing. A few showers are expected over the weekend, and there may even be sleet.
In the afternoon, a few showers will move from northwest to southeast across the country. Behind that, the sun breaks through, especially in the north and west. There is a strong northwest wind and the temperature drops a few degrees.
In the evening and night to Friday, clear spells occur and it cools down to close to freezing. Rain will follow again tomorrow. Behind the rain the sun breaks through again and it will be 6 to 9 degrees.
Saturday may be accompanied by a thunderstorm or grain hail. A little wet snow is also possible. In the evening it will be dry and there are clear periods. A cold night follows with extensive frost.
But on Sunday it will be a fairly sunny and dry day with 6 or 7 degrees. In the course of the evening it will freeze again.
The outlook for next week shows considerable sunny periods and it remains dry. In clear weather it will freeze a few degrees at night and in the afternoon it will be about 7 degrees. If it is cloudy for a longer period of time, it will be less cold at night, but the temperature will not rise much during the day.
---
---