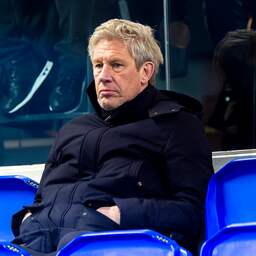 Director Marcel Brands is furious with the PSV supporter who entered the field of the Philips Stadium on Thursday in the final phase of the home match against Sevilla and attacked keeper Marko Dmitrovic.
"I have no words for this," said the general manager of the Eindhoven team afterwards. "It is terrible, also that he shames his fellow supporters."
PSV can probably face a hefty punishment from UEFA. "I have no experience with this either," says Brands. "Throwing fireworks or other things on the field is of course not good, but this goes a lot further. I am deeply ashamed of this."
The fan, according to Brands a fairly young person, was quickly removed. "We have to tackle this very hard and ensure that he never comes into the stadium again."
PSV coach Ruud van Nistelrooij is also shocked by the incident. "It is unthinkable that as a supporter you attack a player. It is regrettable that we have to talk about this."
PSV has been eliminated from the Europa League despite the 2-0 victory. After all, Sevilla triumphed 3-0 last week.
---
---