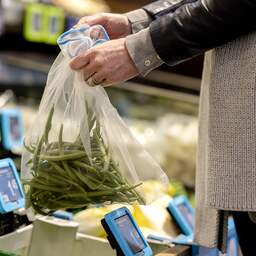 The free plastic bags in the fruit and vegetable department will disappear from five large Dutch supermarkets. Leader Albert Heijn was the first to ban plastic bags last year. ALDI, Jumbo, Lidl and PLUS will follow in the course of this year.
The supermarket chains expect to save around 126 million plastic bags annually in this way. If customers still want to put their fruit and vegetables in a bag, they can now buy a nylon bag. They are washable and can be reused.
State Secretary Vivianne Heijnen (Environment) is enthusiastic and hopes that reusable bags will "soon become the new normal". She calls on other supermarkets to follow suit.
Not only the plastic bags are disappearing from the shops, but also the paper bags for fruit and vegetables have to die. The free plastic bags in the bread department will remain in the store for the time being.
---
---