---
23 Feb 2023 at 16:01
Four days after her world record in the 400 meters indoor, Femke Bol is still enjoying herself. The Amersfoort woman, who will play next week at the European Indoor Championships in Istanbul, does not know whether she will ever run even faster, but that is a goal.
Bol has now looked back at the sensational race of the NK in Apeldoorn a few times, although it was mostly enjoyable. There was no serious analysis.
"That will come with my coaches (Laurent Meuwly and Bram Peters, ed.). They have now left me alone for a while," Bol said at a press conference at Papendal on Thursday. "They said: enjoy it for a while. Before the European Championships, we will analyze what can be improved."
On the basis of time, little seems to be possible better. Bol pulverized the 41-year-old world record of the Czech Jarmila Kratochvílová (49.59) in the Omnisport with 49.26.
"It's my best race ever and I don't just beat it. But I don't know if it was a perfect race. There is always room for improvement, so I hope I can go faster one day. I didn't know that I was in was able to run 49.26. The fact that I succeeded makes me very proud."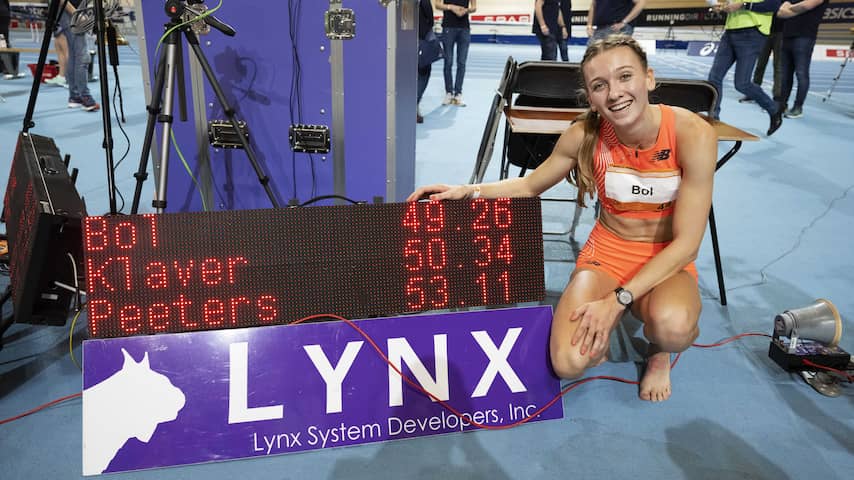 Femke Bol with her world record time. Photo: ANP
'I actually hoped to run 49.5'
These are beautiful and special days for Bol, who also celebrates her 23rd birthday on Thursday. During the press moment, cake with her photo and the world record time was served.
"I actually hoped to run 49.5, that seemed to be the maximum. I didn't expect it to have gone much faster. I still think: how is it possible? Yes, I am still over the moon, although there is not plenty of time to enjoy even longer. The European Championship is coming."
At the European Championships, which lasts from 2 to 5 March, Bol will of course start as the big favorite in the 400 meters. It does not seem impossible that she will dive under her own world record in the Turkish city, but there are other interests at a tournament.
"I run a tournament to win and then you have to let go of the idea of ​​an ideal race a bit. I have to base my tactics on the competitors. If I have to open slower, but take gold as a result, so be it. On the other hand, a title tournament can help me get even more out of myself. We'll see."
Fastest women ever 400 meters indoor women
1. Femke Bol (Nederland) – 49.26 (2023)2. Jarmila Kratochvílova (Czechoslovakia) – 49.59 (1982)3. Natalya Nazarova (Russia) – 49.68 (2004)4. Tatána Kocembová (Czechoslovakia) – 49.76 (1984)5. Sabine Busch (East Germany) – 50.01 (1984)
---
---