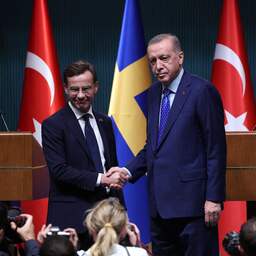 Turkey and Sweden will meet again in mid-March to discuss Sweden's NATO accession. That says Swedish Prime Minister Ulf Kristersson to Swedish broadcaster SVT.
Talks between Sweden, Finland and Turkey have been at a standstill since the end of January. Then a Koran was burned during a protest in front of the Turkish embassy in Stockholm.
Ulf Kristersson does not mention an exact date in conversation with the Swedish broadcaster. "That remains no secret, but we are still waiting for the final confirmation," quotes SVT Nyheter.
Turkish President Recep Tayyip Erdogan has already hinted that, as far as he is concerned, Finland should be allowed to join NATO. This invitation does not apply to Sweden. Erdogan wants Sweden to extradite Kurds living there first if Ankara considers them terrorists.
Incidentally, in addition to Turkey, Hungary also has to agree to the accession of the Northern European countries. According to the AFP news agency, a vote will be held in Hungary on the issue in early March.
---
---