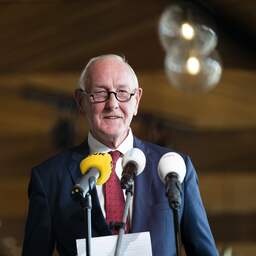 ---
22 Feb 2023 at 09:21
Johan Remkes will receive the Machiavelli Prize on Wednesday. The mediator and former minister received the award for his approach to the nitrogen crisis. The Machiavelli Prize is awarded to someone who has made an outstanding achievement in the field of public communication.
"Johan Remkes connects parties and knows how to restart a stalled dialogue", the jury report states. According to the jury, he is one of the few who can bridge the gap between politics in The Hague and citizens.
According to the jury, Remkes uses clear language and takes a sober attitude. "He knows when to talk, to listen, and when to shut up."
"All of this has been crucial to get the choke issue out of the doldrums. And to give desperate farmers some perspective and confidence again," the report says.
Marja Wagenaar, chairman of the Machiavelli Foundation, will present the prize on Wednesday afternoon in Press Center Nieuwspoort in The Hague.
It is the 34th time that the prize has been awarded. Previous winners include weatherman Gerrit Hiemstra, virologist Marion Koopmans and IC doctor Diederik Gommers.
---
---