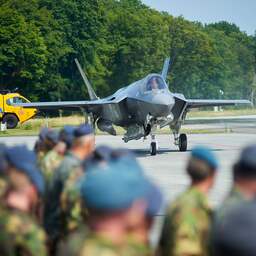 ---
Feb 22, 2023 at 06:03 Update: 4 minutes ago
A Uyghur-Dutch soldier who was told that his mother and sister-in-law were imprisoned in a Chinese 're-education camp' has been suspended by the Ministry of Defense. Instead of helping him, Defense started an investigation into Munirdin Jadikar, who shares his story with Follow the Money. The ministry feared that Jadikar was being influenced by China.
Jadikar, 35, has been working in a department of Edward Air Force Base in California since the end of 2017. The Dutch Air Force has stationed soldiers there. Jadikar worked there for the unit that maintains the Dutch copies of the F-35 jet fighter.
In the same year, the Chinese government began detaining Muslim Uighurs in the western Chinese province of Xinjiang. In December 2018, Jadikar was told through his sister-in-law that his mother has been detained in a Chinese 're-education camp'. In these camps, detainees are indoctrinated and mistreated. China itself says that only religious terrorists are imprisoned, but in reality countless innocent civilians are imprisoned.
Jadikar tried to raise his situation through his manager in the US. But when he reported it to the State Department, he heard nothing. Instead, two employees of the Dutch intelligence service MIVD came to visit at the beginning of 2019. According to Jadikar, the conversation with the two MIVD officers resembled a "hard military interrogation".
Mother and sister-in-law imprisoned and sentenced
After the MIVD's visit, Jadikar was instructed by managers to delete his social media accounts. Although he was assured that he could continue his career with the Defense Department, the soldier was not reassigned to the F-35 division after his time in the United States.
Later, Defense would tell the Uyghur-Dutch soldier that he is vulnerable to influence from China, because his mother and sister-in-law are imprisoned. Moreover, the F-35s would fall within the Chinese government's area of ​​interest.
Although Jadikar was promised that he could still work in departments outside China's area of ​​interest, he was suspended in the summer of 2021. He learned through Foreign Affairs that his mother and sister-in-law had both been sentenced to fifteen years in prison because they had contact with him.
Defense: 'Jadikar does not need to be fired'
The 35-year-old soldier now tells his story. "I was really shocked," he says. "I have asked the Dutch State for help, to get my family released. And instead I am being sent away." Jadikar emphasizes that he was transparent from the start about his Uyghur background and the political situation in Xinjiang.
Jadikar also reports that he is still officially employed by the Ministry of Defence. In November 2022, he heard through a union lawyer that they had "forgotten" his file at the Air Force.
The Ministry of Defense says in a response to Follow the Money that Jadikar does not have to be fired. According to the spokesperson, this is not required when withdrawing a statement of no objection. Such a statement must be given to everyone who has held a position of confidentiality within the Ministry of Defence. Jadikar's declaration of no objection has been withdrawn.
The Ministry of Defense also says that after the withdrawal of the statement, the employer must make an effort to guide Jadikar to his next job. You can also look at a position within the Ministry of Defence.
---
---