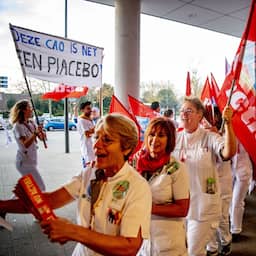 ---
Feb 21, 2023 at 8:11 AMUpdate: 2 minutes ago
A substantial wage increase for hospital staff is a long way off for the time being. Unions have announced strikes in more than 50 hospitals in March as an ultimatum for their wage demands expired today. The wage demands of the unions are too high, hospitals say. Only through a contribution of hundreds of millions of health care minister Ernst Kuipers can wages be raised significantly.
The unions had given the hospitals until noon on Tuesday to meet their wage demands. They demand an increase of 10 percent this year, 100 euros and an extra travel allowance. If the wage demand would not be met before then, the unions would want to take action in the hospitals.
Hospitals say they really can't meet that. Their latest offer is 5 percent extra wages this year and another 5 percent at the end of 2023. The collective labor agreement would therefore continue until 2024. But the unions do not want to spread the wage increase over two years.
"The requested wage increase is financially unmanageable," says chairman Ad Melkert of employers' organization NVZ in an interview with the Zorgvisie magazine. According to Melkert, on top of inflation and increased energy costs, it is impossible to meet the wage demands of trade unions.
'Wage increase would cost 800 million euros'
According to the hospitals, the demanded wage increase will cost 800 million euros. Melkert states that many hospitals do not have sufficient reserves for this.
Nevertheless, he thinks that the healthcare staff should receive a substantial salary increase. Melkert says that health insurers and the Minister of Health must contribute hundreds of millions to make that wage increase possible.
'Waiting lists increase as hospitals have to cut costs'
If health insurers or the minister do not come along, hospitals will have to cut costs in order to raise wages. "Then we have to reduce the number of jobs. That also means that waiting lists will increase and catch-up care will take longer again," Melkert warns.
The NVZ chairman warns that actions are in "no one's interest". Melkert calls on the unions to work with the hospitals to get Minister Kuipers and the health insurers to move.
---
---