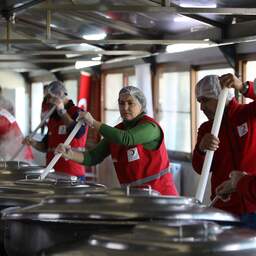 ---
21 Feb 2023 at 14:48
The earthquake in Turkey and Syria on Monday evening caused further buildings to collapse and further disrupted relief efforts. Aid organizations see that the victims have received a major mental blow. They also fear another disaster due to the shortage of resources.
Emergency workers from various organizations report that there was widespread panic in the areas affected on Monday evening. Jasper Kuipers, director of Doctors of the World, says aid workers saw people jumping from balconies. They did so for fear of collapse.
He warns that the survival mode of the victims can lead to psychological problems. "The people in the area do not relax and they do not get to mourn. There is a continuous acute danger. This is on top of the fact that they were already fleeing the civil war in Syria."
On Monday it was announced that the headquarters of Doctors of the World in the Turkish city of Antakya collapsed as a result of the latest earthquake. The consequences of this are still unclear. It is reported, however, that the collapse did not jeopardize the relief efforts.
The Red Cross calls the new earthquake a "terrible setback". "If the victims managed to rebuild their lives at all, that was wiped out again with last night's blow," says director of the Dutch Red Cross Marieke van Schaik. She reports that the nine thousand aid workers who were already in the area continue to support victims.
Next disaster is lurking
The Red Cross sees that the need for aids is still very great. Not only is there a high demand for sanitary facilities, but also for food, drink and shelter. "As a result, there is a risk of another disaster, because it is more likely that diseases will spread."
Problems are foreseen again with the supply of relief supplies. After the quakes two weeks ago, it was already difficult to reach some areas. This is because roads and other infrastructure have been damaged. "Some roads had been repaired somewhat, but now there is again a lot of damage," says Kuipers.
Doctors without Borders informs NU.nl that shortly after the last earthquake, victims were treated in hospitals in Idlib, in northern Syria. Whether and how the latest quake affects the work of the aid organization is still being mapped out.
---
---