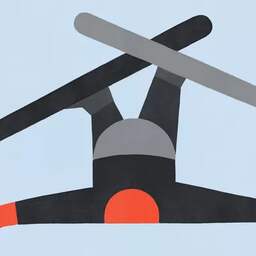 Hundreds of thousands of Dutch people slide down a snowy slope in winter, but the fun in the snow partly ends at the emergency room. How can that be prevented? The greatest risk is a middle-aged man who overestimates his own skiing abilities.
This article is from the Volkskrant. Every day a selection of the best articles from the newspapers and magazines appears on NU.nl. You can read more about that here.
Adequate protection, such as a ski helmet, reduces the risk of serious injury. Still, the helmet for adults is hardly ever mandatory. Wouldn't that prevent quite a bit of trouble? Arjen de Graaf, commercial director of the Dutch Ski Association, thinks that making helmets compulsory would make little difference: after all, most skiers already wear a helmet. "When I started wearing one in 2005, it was still rare. Now the number of people without a helmet can be counted on one hand.'
The data from Eurocross, one of the five emergency centers where Dutch winter sports enthusiasts can turn to with injuries, confirm this impression. The fact that head injuries, especially concussions, are still in the top 5 of winter sports injuries is not because people don't wear helmets, says Nicole Bootsma, a doctor at Eurocross. 'In many places the helmet is now compulsory for children up to the age of fourteen, but nowadays you see that almost everyone wears one.'
That's a good thing. In 2018, American scientists from Vermont compared studies from all kinds of winter sports countries and concluded that wearing a helmet roughly halves the risk of head injury. However, that does not mean that the percentage of head injuries has drastically decreased in recent years. Worldwide, that share of all possible injuries is still between 10 and 12 percent.
While Norwegian researchers saw the percentage of helmet wearers triple to 77 percent in ten years, the percentage of head injuries only decreased by 12 percent over the same period. This is probably partly because winter sports enthusiasts have started to take more risks. And that could be related to other changes, such as the introduction of sportier carve skis and exciting jumps that provoke more reckless behavior.
Self-overestimation
The fact that the helmet would lead to more risky behavior has been disproved by several studies. In the case of Dutch skiers, overconfidence could play a role, says trauma surgeon Kees Bartlema of the LUMC. In 2020 he was involved in a study by the LUMC and Eurocross, which compared the skiing performance of 84 winter sports enthusiasts with how they estimate their skiing level themselves. Certified ski instructors watched as the Dutch, who had completed a questionnaire in advance, descended from a mountain slope in Flachau, Austria.
Nine out of ten men and more than six out of ten women appeared to overestimate their own skiing abilities. The profile of the skier most at risk of accidents, the researchers concluded, is a middle-aged man who is no longer a beginner, but then again not like an athletic ski hero hurtling down a black slope.
A small-scale study, Bartlema admits. Moreover, several factors play a role. 'People are more likely to twist their knees in mushy snow,' says Doctor Bootsma. "And we see more vertebral and pelvic fractures on icy slopes." In warm weather, the snow line is higher. Bartlema: 'In that case, the same number of people will do sports huddled together in a smaller area. And because of corona, many have not skied for a while.
Snowboarding breaks arms
What you slide down the mountain with also matters. Skiers are at greater risk of knee, thigh and pelvic injuries, while snowboarders are more likely to break their arm and fall on their head. Skiers are more often seriously injured. This may have to do with age – skiers are older than snowboarders on average – but also with the type of injury the sport involves. "Pelvic fractures can bleed a lot," says trauma surgeon Bartlema.
To get out of winter sports in one piece, Bootsma recommends checking the helmet carefully: it is often better to replace it after a strong blow. Try to train in advance and don't take unnecessary risks. In the unlikely event that you do break something, Bartlema advises, if possible, to wait with treatment until you return to the Netherlands.
'The material used to connect bones, such as plates and screws, is not universal. If complications arise, this can cause problems in the Netherlands, for example because our screwdriver does not fit.' Above all, he urges people that prevention is better than cure. "People often think that everything will be fine once a breakup has been treated. That is not the case, especially with foot and hand fractures, the recovery is rarely complete. You can suffer from it all your life.'
---
---