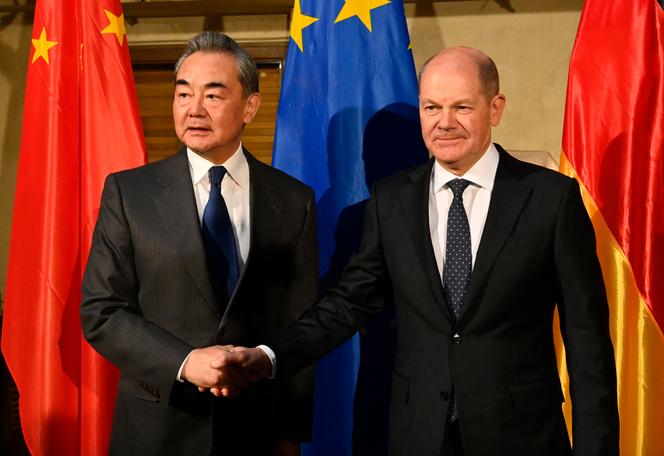 Chinese Foreign Minister Wang Yi and German Chancellor Olaf Scholz (right) at the Munich Security Conference in Germany on February 17, 2023. THOMAS KIENZLE / AFP
The Ukrainian leaders' urgent appeals to the Europeans to speed up their military aid seem to have been heard on at least one point: that of ammunition, the level of stocks of which is dangerously low in armies that are poorly prepared for high-intensity combat.
NATO Secretary General Jens Stoltenberg sounded the alarm on February 9 by declaring that the pace of ammunition consumption by kyiv was higher than that of NATO production. The urgency of the situation, at a time when the Ukrainian army is facing a critical phase on the front against Russian forces, has led political leaders and heads of defense industries to discuss as a priority the means of quickly restarting the production of ammunition. , during the Munich Security Conference, which took place from Friday 17 to Sunday 19 February in the Bavarian capital.
On Sunday, the head of European diplomacy, High Representative Josep Borrell, became even more alarmist than Mr. Stoltenberg. "We are in the emergency of war, he pointed out. We have taken too long to make decisions on the issue of tanks. This ammunition shortage must be resolved quickly, it is a matter of weeks. »
Use European funds
The European Commission is therefore working on the idea of ​​using European funds to enable defense industry companies to "standardize" their ammunition production. Its president, Ursula von der Leyen, took the example of Community aid for the production of vaccines during the Covid-19 pandemic, which she wants to apply to ammunition. "It is not possible that we have to wait months and years before being able to restock," she said on Saturday in Munich.
There is an instrument for this, explained Mr Borrell, that of the European Peace Facility, which since the beginning of the war in Ukraine has made it possible to finance the supply of arms to Kiev by the Member States of the European Union ( EU). A system of prior agreements on ammunition orders sent by the EU to defense manufacturers would thus make it possible to accelerate their large-scale production.
Read also: Article reserved for our subscribers In Munich, Westerners demonstrate their unity against Russia
Mr. Borrell has planned to submit this plan to the Ministers of Foreign Affairs of the Twenty-Seven, Monday, in Brussels. In the short term, he wants to convince EU member states to supply Ukraine with ammunition available in their own stocks. For the Estonian Prime Minister, Kaja Kallas, who has been campaigning for this idea for two weeks, the slowness of States to place orders for ammunition is explained by the illusion that "some maintain that this conflict will not last".
You have 58.73% of this article left to read. The following is for subscribers only.
---
---