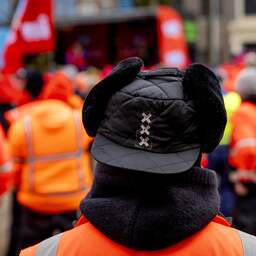 ---
Feb 20, 2023 at 05:18 Update: 2 minutes ago
Municipal officials in Amsterdam will stop working for seven days from Monday 06:30 am. Among them are city cleaning staff, such as garbage collectors.
The civil servants want, among other things, a wage increase of 12 percent over a period of one year. The trade union FNV also demands automatic compensation for inflation in next year's collective labor agreement.
The municipality warns of a lot of nuisance because of the strike.
During the strike no bulky waste and household waste such as residual waste, glass, paper/cardboard, textiles and organic waste will be collected.
The streets are also not swept, trash cans are not emptied and reports about waste on the street are not handled. During previous strikes by civil servants in Utrecht, Rotterdam and The Hague, rubbish accumulated in the streets.
'Keep waste at home as much as possible'
The municipality asks Amsterdam residents to keep waste at home as much as possible during the strike and not to put bags of garbage on the road.
However, it has been agreed with the unions that the markets can continue in the capital. "Waste is cleared away at the end of the day at the daily markets and the market is cleaned. Market masters supervise this," said alderman Hester van Buren (staff) in the city council last week.
During the strike, supervision and enforcement employees will be on the street, but they will not issue tickets to offenders. This can still happen in the event of serious disruptions, violations or extreme behaviour, the municipality reports.
In Maastricht and Den Bosch, municipal officials will strike from Wednesday. That could cause problems with cleaning the streets there after carnival, which lasts until Tuesday.
---
---