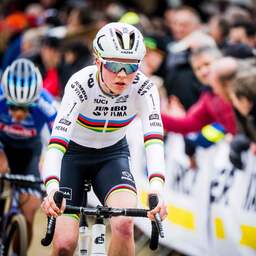 ---
Feb 19, 2023 at 2:40 PMUpdate: 3 minutes ago
Fem van Empel won the last cross in the X2O Bathrooms Trophy on Sunday with force majeure. After a hectic start, the world champion was in a class of her own in Brussels and also secured the overall victory.
The cross in the Belgian capital started chaotically. According to Sporza, the race was started due to defective starting lights, but not everyone was aware of this. Ceylin del Carmen Alvarado shouted that there was a false start and was therefore behind.
Van Empel ignored the commotion and immediately took the lead. Lucinda Brand was not far behind and joined the world champion after two rounds. Alvarado was also making a comeback.
After four rounds, Van Empel turned on and shook off Brand. Her lead gradually increased and was no longer in danger. Brand finished no less than 47 seconds behind her unapproachable compatriot. Annemarie Worst completed the podium just over a minute behind Van Empel. A frustrated Alvarado finished fourth.
With her victory in Brussels, Van Empel secured the Soudal Ladies Trophy, the cup for the overall victory in the X2O Bathroom Trophy. The twenty-year-old top talent won five of the eight matches and defended a comfortable margin over Brand in the last cross.
With her final victory in the X2O Bathrooms Trophy, Van Empel gives her top season extra shine. The Jumbo-Visma rider won her first world title two weeks ago in Hoogerheide. She also finished proudly at the top of the World Cup standings.
---
---