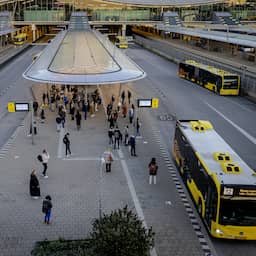 ---
Feb 19, 2023 at 6:34 PMUpdate: 22 minutes ago
Employees in regional transport will stop work on Wednesday and Friday. According to FNV Regional Transport director Marijn van der Gaag, "the limit has been reached".
According to Van der Gaag, the work pressure for the employees is too high due to the irregular schedules and tight journey times. "If nothing changes, it will be very bad for the future of public transport."
The announcement of new strikes comes two weeks after a five-day strike in regional transport. The willingness to take action was high at the time, according to the union. Every day about 80 percent of the employees who were scheduled went on strike.
The employees want a new collective labor agreement with wages that increase in line with inflation. The FNV demands a wage increase of 16.9 percent for a collective labor agreement for one year, the CNV demands 14 percent spread over eighteen months.
No money for demanded wage increases
Chairman of the Public Transport Employers Association (VWOV) Fred Kagie announced on Friday that this money is not there. The wage offer of the VWOV amounts to an 8 percent increase. The employers say that the margins in public transport are very small and that many transport companies have been making a loss since corona.
Measures must also be taken to reduce the high workload. For this, driving times must become less tight and there must be regularity in the rosters. The unions also want the proposals on further flexibilization of employees off the table.
There are two collective labor agreements in the regional transport sector, the Regional Transport Collective Labor Agreement with approximately thirteen thousand employees and the Multimodal Collective Labor Agreement with approximately thirteen hundred employees. Both collective labor agreements ran until December 31, 2022.
---
---