By Jeroen van Barneveld
---
19 Feb 2023 at 03:08
After the happy victory over competitor AZ, everyone at Feyenoord dreams of the Coolsingel again. The players are also no longer avoiding the championship, although trainer Arne Slot thinks his team should play better football.
A reporter in the press room asks if Marcus Pedersen has ever heard of the word championship fever. The maker of the winning 2-1 in the absolute final phase against AZ shows an uncomfortable smile behind the desk. The Norwegian has no idea what he is being asked, because he does not understand Dutch.
After an explanation in English, Pedersen says what everyone in and around De Kuip thinks after the last final whistle at Feyenoord-AZ: "I think a lot of people now believe that we can become champions."
Receive notifications of important developments around FeyenoordStay informed with notifications
Tens of thousands of scarves went up in De Kuip after Feyenoord's hard-fought victory was a fact. With twelve games to go, more and more Rotterdammers are becoming convinced of the title chances of their club, which was champion for the last time in 2017.
With the victory in a direct confrontation, Feyenoord put number two AZ behind by five points, although Ajax can reach three points on Sunday. An additional advantage for Feyenoord: until the top match against Ajax on March 19, three relatively easy duels are scheduled, against Fortuna Sittard (away), FC Groningen (home) and FC Volendam (home).
The k-word (championship) is no longer avoided in the dressing room, even though it is cursed by Feyenoord's fatalistic supporters. Pedersen: "Of course we talk about it. We believe in it. We motivate each other extra during training sessions and we all fight to become champions."
Stand in top Eredivisie

Feyenoord 22-49 (+29) AZ 22-44 (+20)
Ajax 21-43 (+37)
PSV 21-42 (+30) FC Twente 21-40 (+22)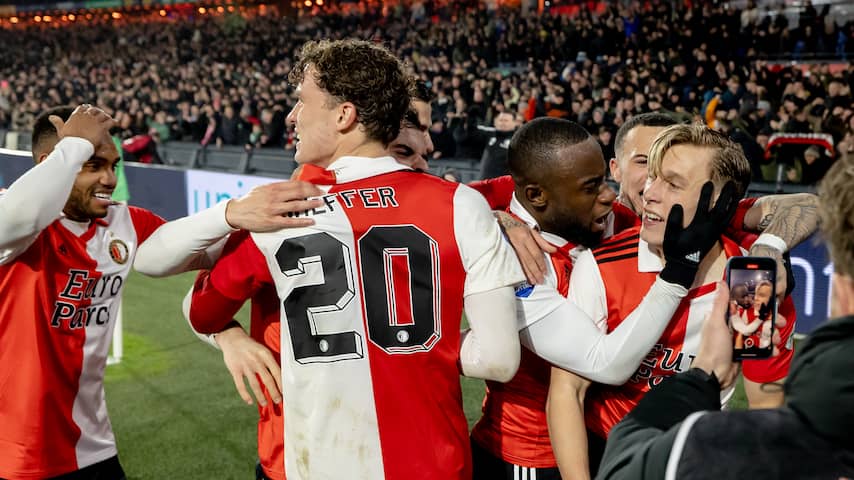 Great joy at Feyenoord after Marcus Pedersen's winning goal. Photo: Getty Images
Conclusion: 'We are in very good shape'
Slot also seems to be becoming increasingly optimistic after cautious answers about the title fight. He notes with satisfaction that his team has taken a new step by winning a bad match for the first time this season. "And teams that finish high often win lesser matches," he knows. After the winter break, Feyenoord had not beaten Ajax (1-1), FC Twente (1-1) and PSV (2-2).
But Slot does not say that Feyenoord must become champions, even though he realizes that his team is in "very good" shape in the title race. "We don't mess up the competition like Napoli does in Italy, we haven't been leading 4-0 at halftime. We have to make a lot of effort to win a match."
Therein lies the strength of Feyenoord, which undoubtedly has the fittest and most resilient team in the Eredivisie. The team from Rotterdam has already collected the opening goal eight times this season without leading to a defeat. No Eredivisie club took as many points (eighteen) as Feyenoord after falling behind.
Proof was again provided against AZ. Feyenoord fell behind and played bad football, but won thanks to a very lucky goal from Pedersen in the ninetieth minute. His shot with his left leg was deflected and arced over AZ goalkeeper Matthew Ryan.
Or that it was the luck of the champion-to-be? Slot leaves that in the middle. "If you want to be champion, you have to play better football than we did today. But Michael Jordan once said: the harder I worked, the luckier I got."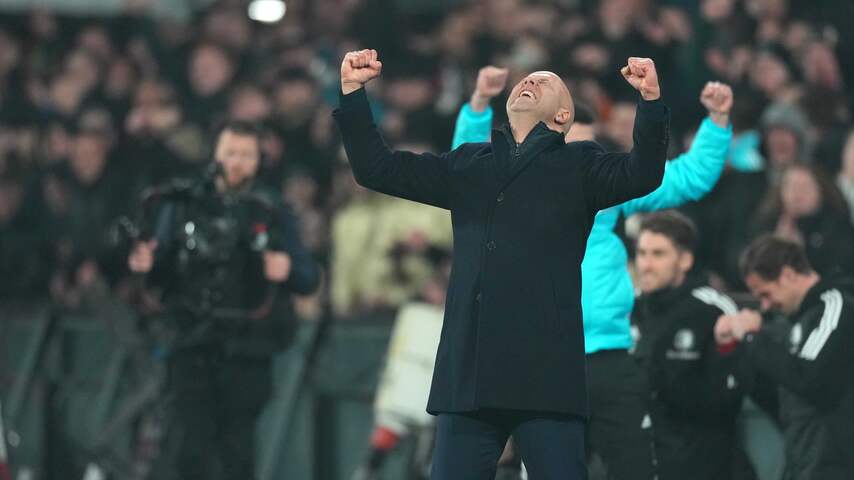 Arne Slot dreams of the title. Photo: ANP
---
---